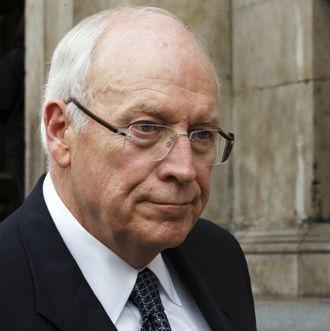 Photo: OLIVIA HARRIS/AFP Images/Getty
In true Wyoming fashion, fly-fishing is playing an ever-increasing role in the Senate race between Republicans Liz Cheney and Sen. Mike Enzi. It's already popped up in a mini-scandal over Liz Cheney's application for a fishing license. Now Liz Cheney's father, Dick Cheney, is accusing Enzi of lying about their fly-fishing past. Enzi has asserted, most recently to The Daily Beast, that he and Dick Cheney were friends and fishing buddies before Liz Cheney entered the race. Both Cheneys have taken turns denying that, with increasing levels of coldness.
Back in July, Liz Cheney threw some cool water on Enzi's claim: "I think (Dick Cheney and Mike Enzi) may have fished together once," she told Rush Limbaugh. But she didn't outright deny it. On Sunday, Dick Cheney went all-in with his fishing buddy denial: "Mike also said he and I are fishing buddies, which is simply not true. Never happened," Cheney told George Stephanopoulos on This Week. So yeah, now something as innocuous as fly-fishing is a focus of political rancor in the Wyoming Senate race.