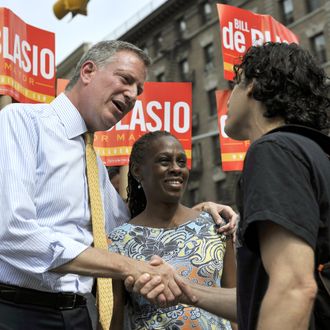 Following its profiles of Bill de Blasio's past as a Sandinista-supporting liberal activist and Joe Lhota's youthful interest in Barry Goldwater and fighting communism, the New York Times has turned its attention to de Blasio's wife, Chirlane McCray. The press already noted last December that McCray identified as a lesbian prior to meeting her husband (and primary voters shrugged), so the scandalousness of the biggest revelation in the piece depends on your feelings about the woman whose Senate campaign de Blasio ran in 2000. "Mr. de Blasio and Ms. McCray are as much a package deal as Bill and Hillary Rodham Clinton," the Times reports , noting that the campaign hierarchy posted in de Blasio's headquarters lists "Bill/Chirlane" at the top.
For the most part, New York City's first ladies have been rather traditional, with their duties mainly involving serving as hostess at mayoral events and redecorating Gracie Mansion. The woman who appears likely to fill the role after a gap of more than twelve years is an integral part of her husband's campaign. The Times reports that de Blasio's campaign meetings are planned around McCray's schedule, she edits all of his key speeches, and her concerns about the city – such as the closure of St. Vincent's and other city hospitals – have become major themes in his campaign. McCray embraced the comparison to the Clintons' political partnership in an interview with the paper, saying, "We've always been partners in the campaigns and any major thing we have taken on."
While she's now a campaign insider, McCray's early years were marked by feelings of alienation. There were few black families in her hometown of Longmeadow, Mass., and growing up her home was covered in racist graffiti, she was bullied by her classmates, and white construction workers spit at her. She found some acceptance at Wellesley College (coincidentally, Hillary Clinton's alma mater), but she says some of the women in her dorm were "totally freaked out" when they discovered she was a lesbian. As a teen, McCray dealt with the discrimination by writing poems and short stories, and in college she joined what would become the Combahee River Collective, a group of black feminist intellectuals.
McCray's interest in writing and political activism led her to a job in the press office of New York's City Hall in 1991, where she met de Blasio. While the two appear inseparable today, she said his early advances went unrequited, and at one point she actually told him "back off." There's little explanation of what finally won her over, but the video of wedding highlights released to the Times makes it pretty clear that it wasn't his dancing skills.