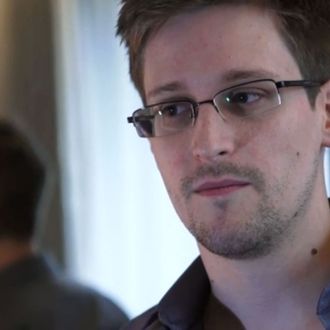 Edward Snowden has described his time working for the CIA in Geneva as "formative," telling Glenn Greenwald, "Much of what I saw in Geneva really disillusioned me about how my government functions and what its impact is in the world." And at least one thing the CIA saw in Snowden in 2009 left the agency disillusioned about him. As the New York Times reported on Thursday, the agency sent Snowden home from his assignment when it suspected he was trying to break into classified files to which he did not have access. It red-flagged his record with the report, but that didn't affect his security clearance when he left to work for the NSA. The report "slipped through the cracks," one official told the paper.
While agency spokespeople "all declined to comment on the precise nature of the warning and why it was not forwarded," one unnamed Republican lawmaker familiar with the case told the Times, "the weakness of the system was if derogatory information came in, he could still keep his security clearance and move to another job, and the information wasn't passed on." Which means Snowden's red flag stayed in his C.I.A. file while he and his top-secret clearance left the agency.
It's been a big 24 hours for Snowden, who has largely kept his head down since he left the Moscow airport on Aug. 1. Four government whistle-blowers and activists met with him on Wednesday night to give him an award for truth-telling from the Sam Adams Associates for Integrity in Intelligence. Then, on Thursday, Snowden's father arrived in Moscow, but Lon Snowden said he hadn't met with his son yet.
Edward Snowden has stayed out of sight the whole time, but Jesselyn Radack, one of the activists who met with him, said, "he looked great."