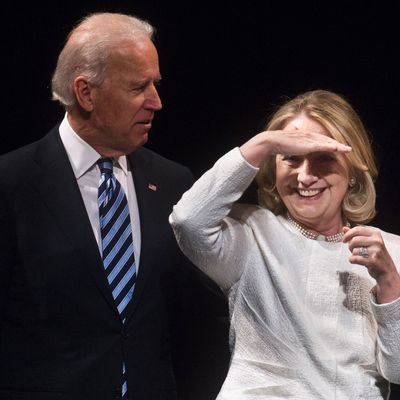 "Oh look, I think I can see your rocking chair from here."
Photo: Nicholas Kamm/AFP/Getty Images
Not really! In fact, there probably won't be a Clinton-Biden primary battle at all, the polls being what they are. Nevertheless, Clinton's closed-door Clinton appearance at the National Association of Convenience Stores seems like something of a gentle, subtle threat to her old friend and colleague:
No ears reported any mention of whatever 2016 ambitions Clinton might have. But state Rep. Tom Taylor, R-Dunwoody, said the former first lady dropped a huge hint. "I know she's running for president now, because toward the end, she was asked about the Osama bin Laden raid. She took 25 minutes to answer," Taylor said. "Without turning the knife too deeply, she put it to [Vice President Joe] Biden."

Time and time again, Taylor said, Clinton mentioned the vice president's opposition to the raid, while characterizing herself and Leon Panetta, then director of the Central Intelligence Agency, as the action's most fierce advocates.
Translation: You don't want any of this, Joe. Go spend time with the grandkids.