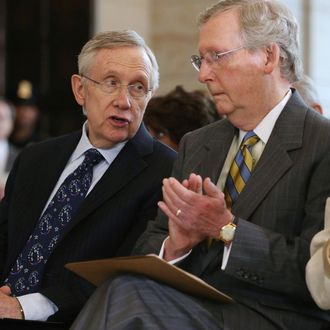 Boo.
Photo: Drew Angerer/2013 Getty Images
As is often the case, this week's New Yorker cover, featuring the Capitol Building as a haunted house, hits the nail on the head. The Senate met for a rare Sunday session, but there was little progress a day after Senate Majority Leader Harry Reid rejected a plan developed by Republican Sen. Susan Collins that would have raised the debt ceiling through January and funded the government through March (allowing another, deeper round of sequester cuts to hit in January). Reid had a brief phone call with Senate Minority Leader Mitch McConnell on Sunday afternoon, which a Democratic source said was "cordial but inconclusive." According to the Washington Post, talks slowed because Senate leaders are waiting to see if financial markets take a dive on Monday, and if the frightening prospect of hitting the borrowing limit on Thursday puts the opposition in a more cooperative mood.
Senate Majority Whip Dick Durbin compared the economy to a damsel in distress, saying investors might have assumed that she'd be rescued at the last minute. "As we start hearing the train whistle, I think that there may be a different view," he told The Wall Street Journal.
While the Collins plan would have included a two-year delay of the Affordable Care Act's medical device tax and tightened income verification rules for people receiving subsidies, allowing the GOP to claim some small victories, the focus is now on spending and the length of the debt ceiling extension. Democrats, perhaps emboldened by the Republicans' dismal poll numbers, are pushing to revise sequester cuts, while Republicans want to keep them in place (or that's their bluff, at least). "You can't just demand pure capitulation," complained Republican Rep. Tom Cole. "Negotiations don't work that way."
Democrats may think they have the upper hand, but on Face the Nation John McCain issued a warning to his colleagues. "The Democrats, they better understand something: What goes around, comes around," he said. "And if they try to humiliate Republicans, things change in American politics – and I know what it's like to be in the majority and in the minority – and it won't be forgotten. Now is the time to be magnanimous and sit down and get this thing done." Don't piss off the GOP, or someday they might do something crazy.