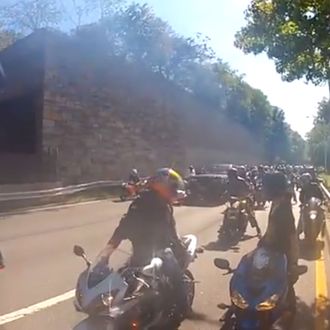 The undercover NYPD cop arrested for allegedly participating in the altercation between bikers and an SUV driver found himself in even deeper trouble on Wednesday than he was when he turned himself in on Tuesday, as prosecutors charged him with more serious offenses at his arraignment. He had been facing riot and criminal mischief charges, but they added gang assault and assault, and dropped the riot charge. They say he terrorized the family inside the vehicle. Outside of court, Detective Wojciech Braszczok's sometimes-NSFW online life, some of which he used in his undercover role infiltrating Occupy Wall Street, is now very, very public.
The New York Post was among the first to dig into Braszczok's Twitter profile, which included exhortations to join the Occupy events he was infiltrating. It also found his profile at the site Singlesbee. But for the photos Braszczok posted to Photobucket — of the designs he shaved in his hair, his bare chest in the mirror, his motorcycle, and many scantily clad ladies, Gothamist has you covered. Meanwhile, Gawker contacted some Occupy types who recalled his constant presence at their events.
Braszczok has been scrubbing his online profile, it seems, deleting his Photobucket account and a photo from his Twitter account. But it's too late. Whatever happens with Braszczok's legal and administrative cases, one thing seems sure: His undercover work has been seriously compromised.