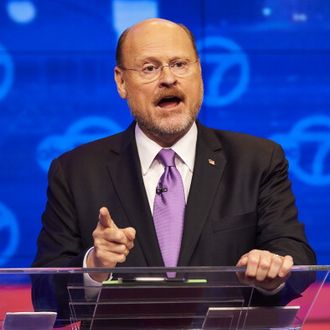 Photo: James Keivom-Pool Images/Getty
The dystopian "dog whistle" ad released yesterday by Joe Lhota — in which a movie-trailer narrator warns that bikers and black people will take over the city under Bill de Blasio — uses a photo montage of seventies and eighties NYC to illustrate its scare-mongering. In a delicious twist of irony, however, at least one of the pictures, which just so happened to be featured in the New York Times last month, was used without the permission of its owner.
"I'm concerned with people not paying for photos and even worse, stealing them. I am also very upset at having my work help someone I do not intend to vote for," the photographer Matt Weber told Gothamist. "I hate the Republicans for their greed, and lack of concern about the poor and their position on the environment and 1,000 other things. They rarely ever do anything I can agree with and I find them an embarrassment for the human race!"
Lhota continues to trail by 40-ish points in the polls.