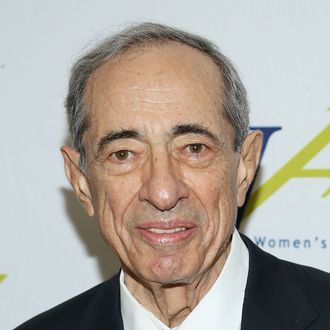 Insert your own "offer he can't refuse" joke.
Photo: Rob Kim/2013 Getty Images
Revealing that you haven't seen a film beloved by much of the American populace usually only warrants a "Come on, you haven't seen The Goonies?!" but that changes when the viewer in question is Mario Cuomo and the film is The Godfather. The New York Times reports that the 81-year-old former New York governor finally watched the film over the weekend during the 2013 Forum Film Festival at the Forum on Law, Culture and Society at Fordham Law School, ending a boycott that dates back to his refusal to attend the film's 1972 premiere. 
Cuomo's stand against negative depictions of Italian-Americans went far beyond preferring not to watch mob movies. He frequently railed against the suggestion that organized crime is mainly Italian, and even told reporters in 1985, "You're telling me that Mafia is an organization, and I'm telling you that's a lot of baloney." (Then-U.S. Attorney Rudy Giuliani countered that there was in fact a group called the Mafia that "organizes itself around the fact that it is Italian or Italian-American.")
In a conversation following the screening, Cuomo admitted to Larry King, "maybe this thing was a masterpiece." However, he said that while the film is "great, if you're referring to artistry," movies and TV shows about the mob still send a "horrible" message about Italian-Americans – one that affected his political career. "When I didn't run for president," Cuomo said, "there were two reasons people gave in their dark speculations: I must be in organized crime or have colon cancer. Nobody was saying I had a 28-year-old blond girlfriend." Don't leave a Sopranos DVD box set in Cuomo's bed unless you want a 45-minute lecture on the evils of stereotyping.