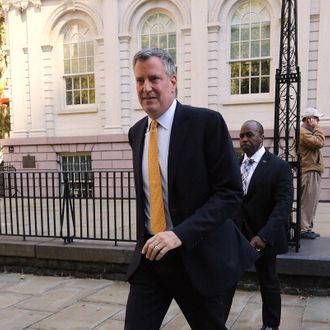 Photo: Mario Tama/Getty Images
Here's one way to show you're no Sandinista-loving enemy of the running dog capitalists: Cash their checks. Bill de Blasio's public schedule has been considerably lighter since he won the Democratic nomination for mayor, and one reason is that he's been frantically raising money, much of it from the New York business class.
Yesterday, De Blasio was the star of a $1,000-per-head breakfast fund-raiser thrown by Patricia Lynch Associates, one of the state's best-connected lobbying firms, which was attended by corporate clients including Coke and Vornado Realty Trust. Today brings a buck-raking doubleheader: a breakfast hosted by investment banker Roger Altman and hedge-fund manager Orin Kramer, among others, and a party tonight at the Flatiron home of De Blasio's finance-committee chairman, Barry Berke, a white-collar defense lawyer. Both events have a $1,000-minimum ticket, with individual contributions up to the legal limit of $4,950 highly welcome.* Next Monday, the pride of Park Slope will be fêted at the home of private-equity fat cat John Howard. De Blasio will also appear before business leaders this Friday morning, when he speaks — this time for free — at a meeting of the Association for a Better New York, and he's promised not to flinch from repeating his campaign promise to raise taxes on the wealthy. Making that happen requires passing legislation next year in Albany, but De Blasio, not yet mayor, is already busy redistributing a bit of the wealth.
* This post has been updated to correct the date of the De Blasio fundraiser at the Global Strategy Group. The event is October 16.