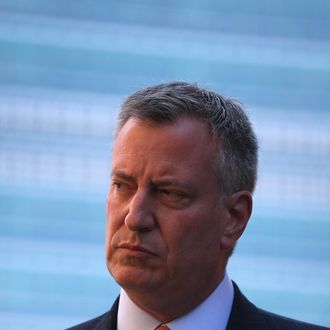 Photo: John Moore/Getty Images
Last month, when he learned that the Post was about to publish a report on the circumstances of his estranged father's death in 1979, Bill de Blasio revealed that his father committed suicide. The mayoral candidate discussed his father's death with WNYC, saying he only intended to do one interview on the subject as "I think some things still need to be respected about families." Now de Blasio is talking about his father again, since the New York Times decided to delve deeper into the story of how Warren Wilhelm went from being an injured World War II veteran, to being investigated for communist sympathies, to meeting his incredibly sad end.
The first of many tragic turns in Wilhelm's life came in 1945, when he shot a Japanese soldier holding a grenade during the Battle of Okinawa. The soldier was killed, but the grenade exploded at his feet and his left leg had to be amputated at the knee.
When he returned to the U.S., Wilhelm married Maria Angela de Blasio, who he met when they both worked at Time magazine before the war, and took a job as a budget analyst for the federal government. In 1950, the couple learned that they were being investigated by the Fourth Regional Loyalty Board for alleged Communist sympathies. Wilhelm had studied the Soviet economy while earning his master's degree Harvard, and de Blasio aroused suspicion because she had been an active union member and former colleagues at the the Office of War Information accused her of rewriting American propaganda to be more pro-Soviet.
During a three-hour hearing, Wilhelm declared, "I consider my loyalty to the United States complete," understandably angered that he would be accused of being a traitor after losing a limb in the war. The investigation turned up no solid evidence, but the Loyalty Board found they had a "sympathetic interest in Communism," and denied Wilhelm access to classified documents.
The classification affected his career in government, and Wilhelm eventually moved into the private sector. At some point in the sixties, his habit of drinking two martinis after work transitioned into constant heavy drinking. In 1969, after being married for 24 years and having three boys together, de Blasio filed for divorce. The youngest, who later changed his name from Warren Wilhelm Jr. to Bill de Blasio, didn't see much of his father in his teen years. In the seventies, Wilhelm was diagnosed with lung cancer and emphysema and his alcoholism grew worse. After two failed suicide attempts, he shot himself in the chest with a rifle in 1979.
De Blasio, who was 18 at the time, told the paper Wilhelm was "a picture of courage in terms of his war service and strength," but he "learned primarily negative lessons" from his father's decline. "I have a real respect, and a real anger and sadness at the same time," de Blasio said. "I don't think I've ever been able to do the math on exactly what it all means." And it's definitely not the kind of thing anyone wants to work out publicly.