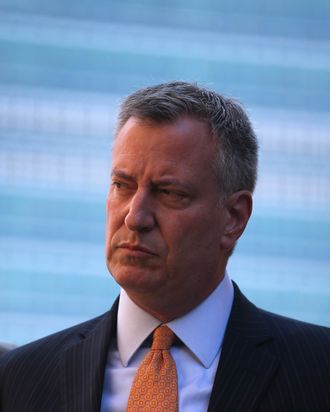 Democratic nominee for New York City mayor Bill de Blasio attends a press conference outside the United Nations Headquarters on September 23, 2013 in New York City. At a media event held by the Jewish Community Relations Council of New York, he and other NYC leaders spoke out urging the Iranian government to halt nuclear enrichment.
Photo: John Moore/Getty Images
Hold onto your hats, because hat thieves prefer to strike while their targets are distracted by the blog posts they're reading! But also hold onto them because, whoa, Bill de Blasio's lead over Joe Lhota is down to 44 points! It was 50 points only three weeks ago! We desperately want this race to be more interesting!