Last night's episode of The Daily Show featured an instant-classic segment on voter suppression and I.D. laws starring a painfully honest avatar for the darkest (whitest) corner of the Republican Party. The thing about Buncombe County Republican precinct chair Don Yelton, a conservative activist described as "the Rush Limbaugh of Western North Carolina," is that he's not hiding.
On the subject of the state's new law meant to limit minority voters, Daily Show correspondent Aasif Mandvi offers, "The law is not racist and you're not racist," at which point Yelton stops him, perhaps mid-overdose on truth serum. "Well," he says, with a heavy pause, "I've been called a bigot before."
Yelton then demonstrates why. Here are his Top 5 Racist Remarks Delivered in Front of a Camera, each expressed with generous amounts of sincerity:
5. "Matter of fact, one of my best friends is black."
4. "When I was a young man, you didn't call a black a black, you called him a negro."
3. "I had a picture one time of Obama sittin' on a stump as a witch doctor and I posted that on Facebook. I was making fun of the white half of Obama, not the black half."
2. "If [the law] hurts the whites so be it. If it hurts a bunch of lazy blacks that want the government to give them everything, so be it."
1. "Now you have a black person using the term n***** this and n***** that and it's okay for them to do it."
Mandvi, rendered nearly speechless, responds, "You know that we can hear you, right?"
Yelton knows. ("The law is going to kick the Democrats in the butt," he concludes.) But he's never been shy about making his views public, as his gold mine of a Facebook page demonstrates: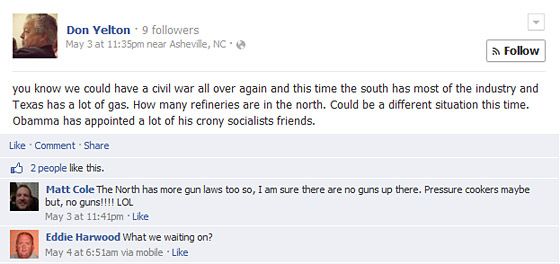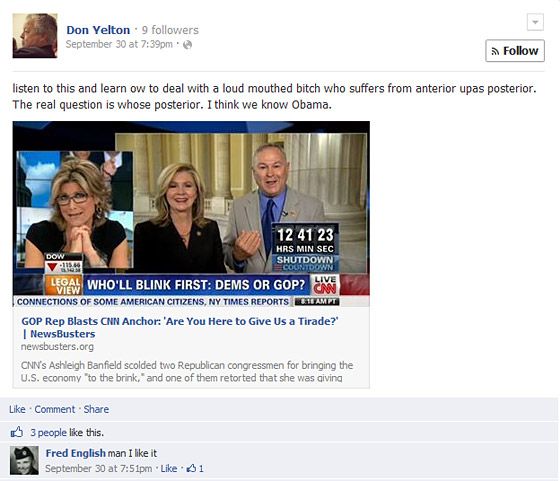 He also knew what he was getting himself into. "The questions were such that the answers can be played with," he told the local news before the episode aired. "I expect them to play with my answers for racism." It did not take much.
Update: In case there was any doubt, Yelton meant what he said. "The comments that were made, that I said, I stand behind them. I believe them," he told Mountain XPress.
And, believe it or not, they went easy on him. "To tell you the truth, there were a lot of things I said that they could've made sound worse than what they put up," he added.
Update II: Yelton has been fired.
"Let me make it very clear, Mr. Yelton's comments do not reflect the belief or feelings of Buncombe Republicans, nor do they mirror any core principle that our party is founded upon," said Buncombe GOP Chairman Henry Mitchell in a statement. "This mentality will not be supported or propagated within our party."