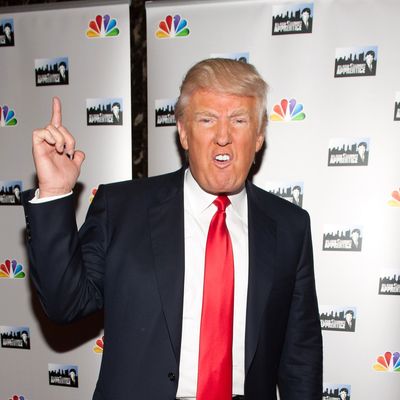 New York's next pretend candidate for governor.
Photo: D Dipasupil/FilmMagic
Apparently the GOP is so desperate to find someone to run against Andrew Cuomo in 2014 that they've turned to the state's most clownish and most orange political figure, Donald Trump. The Post's Fred Dicker reports today that a nascent effort to enlist Trump is "backed by state GOP Chairman Ed Cox and other party leaders." But when Dicker asked Trump about running, the professional attention whore, uncharacteristically, did not immediately pretend that he might do it:
He initially said he was "very flattered'' that top Republicans were promoting his potential candidacy for governor but noted that running for the office was "not something that I've ever even thought about.''
Trump quickly returned to his senses, however:
A few hours later, however, Trump followed up with a scathing attack on Gov. Cuomo — for high taxes and his failure to approve fracking for natural gas — as well as on three-term Gov. Mario Cuomo.

Under the current Gov. Cuomo, "taxes are way too high, and people are fleeing New York. We should become the energy capital of the East, and we're not,'' Trump said …

"Otherwise, I like him very much," said Trump, who is expected to comment further on the GOP's offer in the coming days.
That was close.