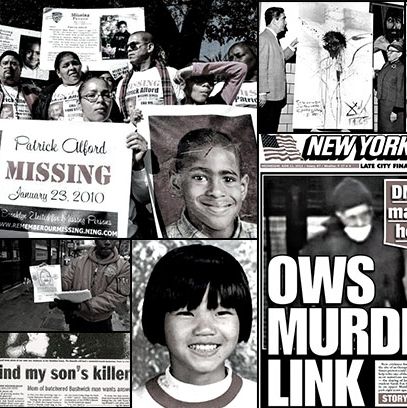 Photo: SCOUT TUFANKJIAN/AP (FOX POSTER); NEW YORK POLICE DEPARTMENT (WOODARD ON SURVEILLANCE CAMERA); HERMOSA BEACH/AP (WOODWARD); BUDD WILLIAMS/NY DAILY NEWS ARCHIVE VIA GETTY IMAGES (ABE LEBEWOHL POSTER)
Saliva on a swiped envelope. Advanced DNA testing. Detectives who won't forget. Each was essential for the police to end two decades of mystery surrounding Baby Hope, Anjélica Castillo, the 4-year-old found in a cooler near the Henry Hudson Parkway in 1991. But even with one mystery wrapped, dozens of others still stump the city's gumshoes. Here are eight of them.
Death of a Juilliard Student
Twenty-one-year-old Sarah Fox was last seen alive in May 2004 setting off for a jog. She was discovered at Inwood Hill Park less than a week later. Her naked body was surrounded by yellow leaves and branches. When a clairvoyant claimed to have divined the secrets of the case, detectives treated him as the prime suspect.

Disappearance of a Foster Child
After questioning some 14,000 people, NYPD detectives still can't figure out what happened to Patrick Kennedy Alford Jr., the Staten Island boy who took out the garbage and never came home. Alford was living with foster parents in East New York at the time of his disappearance in 2010. His family members were initially suspected of snatching him back.
The Missing Dalí
In 1965, the Spanish Surrealist Salvador Dalí produced a gouache-and-ink painting of Jesus Christ as a gift to artistic-minded inmates awaiting trial at Rikers Island. Nearly 40 years later, in 2003, the painting was stolen from inside the city's jail. Four Correction officials were charged with the theft, but the missing Dalí has yet to be discovered.
Daylight Murder in Midtown
On a rainy afternoon last December, Brandon Woodard, a law student from the Los Angeles area, was shot in the head while walking down West 58th Street, staring at the screen of his cell phone. Surveillance video captured a hooded man removing what appears to be a gun from his pocket. Despite the footage, there have been no arrests in Woodard's killing. 
Double Disappearance in the Financial District
Michael Sullivan, an actor working in an art gallery, and girlfriend Camden Sylvia, then working in a real-estate office, were last seen taking off for an evening run in November 1997. A relative who entered their apartment days later found their wallets, passports, and a rented movie (Addicted to Love), evidence the couple hadn't planned to go anywhere. The police questioned their landlord, who'd been feuding with Sullivan and Sylvia over the lack of heat in their $300-a-month rent-stabilized loft. The landlord later served time in prison for tax evasion and credit-card fraud, but the pair are still missing.
Lower East Side Kidnapping
Eleven-year-old Wu Quin-Rong, the daughter of a seamstress on the Lower East Side, was kidnapped less than a hundred yards from her school. Fifteen days later, one of her red sneakers was found near FDR Drive; her body turned up in the East River. A witness reported seeing a bearded man boarding the subway with a screaming Asian girl, but the police were never able to find her killer.
Shooting of a Pastrami King
The beloved owner of the original Second Avenue Deli, Abe Lebewohl, was gunned down in March 1996 en route to his local bank with $10,000 in receipts. Despite a $130,000 reward and a park named after him, no arrests have been made.
Valentine's Day Dismembering
Rashawn Brazell left his apartment on Valentine's Day in 2005. Three days later, transit workers in Brooklyn found a bloody trash bag containing Brazell's right shoulder, right arm, and lower legs. Another bag was discovered at a Greenpoint recycling plant with his lower torso inside.
*This article appears in the October 28, 2013 issue of New York Magazine.