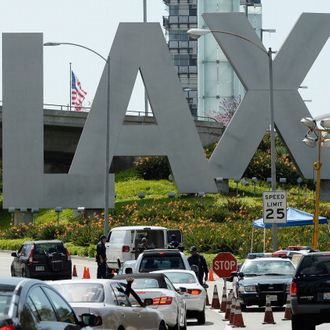 A van is searched at a check point at the entrance of Los Angeles International Airport after security was increased following mutiple expolsions during the 117th Boston Marathon on April 15, 2013 in Los Angeles, California. California emergency management officials activated a statewide threath assessement system after the explosions.
Photo: Kevork Djansezian Images/Getty
The suspect arrested Tuesday night for the series of dry ice bombs that exploded at Los Angeles International Airport is Dicarlo Bennett, a 28-year-old employee of a ground-handling contractor at the airport. He allegedly took the dry ice off a plane, where it was being used to cool food, and put it in a plastic bottle in an employee bathroom Sunday and another, similar device on the tarmac Monday, a source told the Associated Press. No theories yet as to why.