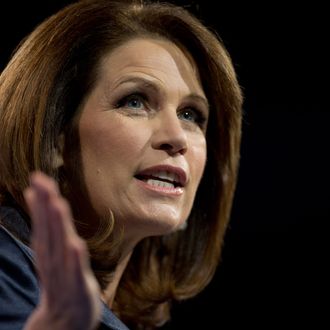 Photo: Carolyn Kaster/AP/Corbis
In a radio interview this weekend, Michele Bachmann said she sees signs that "we are in God's end times history," so prepare accordingly (i.e. don't do anything, because the apocalypse isn't actually here yet). While you might guess this has something to do with the government shutdown, or Bachmann catching ten minutes of This Is the End on cable and confusing it with a news report, she's actually upset about authorizing U.S. aid for al-Qaeda. Of course, that isn't actually happening either, but that's how the Minnesota representative has interpreted recent events in Syria.
"President Obama waived a ban on arming terrorists in order to allow weapons to go to the Syrian opposition," Bachmann told Understanding the Times host Jan Markell. "Your listeners, US taxpayers, are now paying to give arms to terrorists including al-Qaeda." According to The Hill, what she's likely referring to is a National Security Council announcement last month that President Obama waived certain restrictions under the Arms Export Control Act so the U.S. could provide "non-lethal assistance" to Syrian opposition groups that have been vetted to determine they aren't affiliated with extremists.
Bachmann isn't sweating the details, and in audio posted by Right Wing Watch, she explains that helping the Syrian rebels means the end is near:
This happened and as of today the United States is willingly, knowingly, intentionally sending arms to terrorists, now what this says to me, I'm a believer in Jesus Christ, as I look at the End Times scripture, this says to me that the leaf is on the fig tree and we are to understand the signs of the times, which is your ministry, we are to understand where we are in God's end times history.
She goes on to worry that too many large mosques are being built in the United States, and suggests the solution is for America to hit the "pause button" on immigration. But it's cool that mankind's "glorious future" isn't reserved for American conservatives.
That sounds kind of scary, but we're actually lucky to be living in these dark times:

Rather than seeing this as a negative, we need to rejoice, Maranatha Come Lord Jesus, His day is at hand. And so when we see up is down and right is called wrong, when this is happening, we were told this; that these days would be as the days of Noah. We are seeing that in our time. Yes it gives us fear in some respects because we want the retirement that our parents enjoyed. We want our children and grandchildren to have wonderful, positive lives. Well they will, if they know Jesus Christ. And if they know the glorious future that is set out for all of mankind. Not just Americans, not just conservatives, but every human being that God ever

 

created.