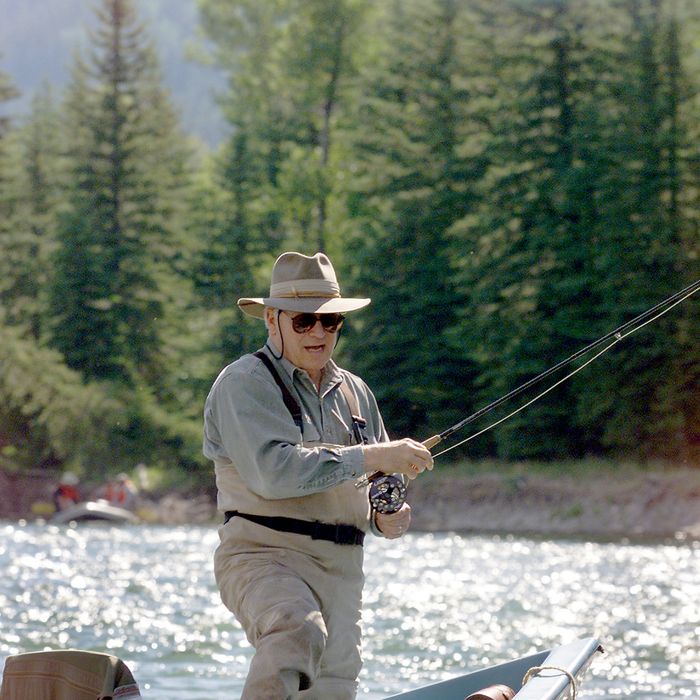 Dick Cheney fishing. Not pictured: Mike Enzi, who wasn't there.
Like all Wyoming political races before it (probably?), the Wyoming Senate primary race between Republicans Mike Enzi and Liz Cheney is currently embroiled in a fishing-related controversy — specifically, whether Enzi, the three-term incumbent, and Cheney's dad, the appropriately named Dick, were ever "fishing buddies."
Enzi, in an effort to portray Cheney the Younger's challenge as a personal back-stabbing of the highest order, claims that they were. On Sunday, Dick begged to differ. "Mike also said he and I are fishing buddies, which is simply not true," Cheney said. "Never happened." But Enzi insisted to Politico that they were too fishing buddies, laying out his case thusly: "I anchored the One Fly Fishing Contest with him one time, and I was asked to speak at his induction in the fly-fishing Hall of Fame," Enzi said. "And we've talked about fishing when we've been together."
Cheney and Enzi do not appear to differ on the history of their shared fishing experiences. Where they disagree is whether fishing together on one occasion, and perhaps participating in some small talk about fishing, makes them "fishing buddies." Both men have their own agendas here, and clearly cannot be trusted. So we turned to a couple of objective fishing authorities for help refereeing the dispute. And both of them agreed with Cheney.
"Certainly in my book that does not make a fishing buddy," says Rob Kramer, the president of the International Game Fish Association. Kramer has been fishing for 43 years, ever since his grandma taught him as a small child. "I've gone out with hundreds of people one time — that aren't bad people, and some of them are excellent fisherman," he tells us, "but no way would I consider them a fishing buddy."
Greg Schwipps, who co-authored the second edition of Fishing for Dummies and has penned a fishing-themed novel, concurs. 
"I would say you need to get into the double digits," says Schwipps, describing the minimum number of outings required before an acquaintance can attain fishing-buddy status. "But I think that could be shortened if you had a handful of trips that were particularly intense."
Schwipps, who teaches creative writing at Depauw University, recalled one fairly terrifying experience he had with his fishing buddy. A nasty storm took them by surprise, and lightning began striking just nearby as the two friends sat trapped in an aluminum boat in the middle of the river. 
"I think a true fishing buddy is someone who's gone through these trials and tribulations, and forges a real bond," Schwipps told us. He compares the seriousness of the fishing-buddy relationship to a marriage. "You can go out on a date, but that's certainly not your spouse."
It is decided then: Regarding the Great Fishing Buddies Debate of 2013, Dick Cheney is [throws up in mouth a little bit] 100 percent right.