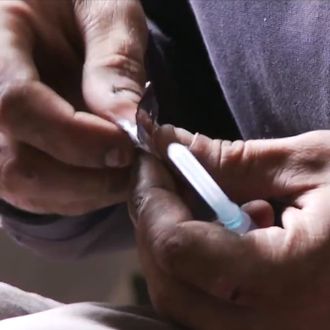 Use of an opioid similar to morphine but more potent — often used as a heroin substitute in Russia — is moving slowly across the United States, according to reports. Krokodil, as the drug is known, can be made at home like meth, "utilizing codeine, iodine, gasoline, paint thinner, hydrochloric acid, lighter fluid and red phosphorus." But it gets its name from the scary skin of its users, whose flesh and muscles can be eaten away down to the bone.
"It is a horrific way to get sick," said a doctor in the Chicago suburbs, who treated three patients this week who said they'd been using krokodil. "The smell of rotten flesh permeates the room. Intensive treatment and skin grafts are required, but they often are not enough to save limbs or lives."
The drug popped up domestically last month in Arizona, after an apparent case in Massachusetts in April, but experts are hoping the drug doesn't take off in the U.S. thanks to relatively less risky alternatives. "Tragically, we have an abundance of heroin, and an abundance of OxyContin, oxycodone, and other opiates," a toxicologist told the Washington Post this week.
Last year, Vice made a graphic video about users of the drug in Siberia. It's not pretty, but it should work as a scared-straight PSA for any curious Americans.