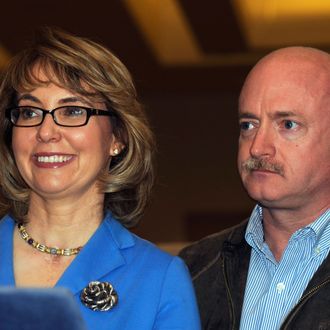 Photo: Tim Roske/AP/Corbis
Former congresswoman Gabrielle Giffords made her first post-shooting appearance at a gun show over the weekend in upstate New York to call for common-sense gun control and was treated mostly with respect. But not entirely! Because this is America. "The trio was greeted by light applause when introduced at the news conference, but some people booed from across the room," the AP reports. Who says this country can't engage rationally?
Giffords spoke anyway, telling anyone who would listen, "We must never stop fighting" to end gun violence. She pumped her fist for impact. "Fight! Fight! Fight! Be bold! Be courageous!"
Outside, protesters held signs with swastikas ("gun control made the Holocaust possible") and explained, "I believe this is a publicity stunt for Mark Kelly and Gabby Giffords." Very brave.