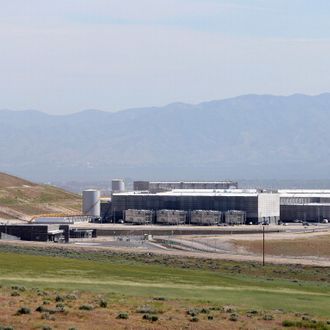 Photo: George Frey Images/Getty
The N.S.A.'s enormous new data storage center in Bluffdale, Utah, will eventually blow up (in the cell phone sense of the phrase) with quantities of data thought to be thousands of times larger than the printed collection of the Library of Congress. But first, its builders must figure out how to stop the machines inside from literally blowing up in electrical surges. The Wall Street Journal reported that the site has experienced ten meltdowns in the past thirteen months, delaying its completion by a year. "One project official described the electrical troubles—so-called arc fault failures—as 'a flash of lightning inside a 2-foot box.' These failures create fiery explosions, melt metal and cause circuits to fail, the official said." Each arc failure, the most recent of which happened Sept. 25, has caused up to $100,000 in damage, according to The Journal. And the site's builders and managers can't agree on exactly what's causing them or how to fix it.
An N.S.A. spokeswoman told The Journal that "the failures that occurred during testing have been mitigated." And a statement from the joint venture of construction contractors said "the causes of those problems have been determined and a permanent fix is being implemented." But a report by an investigative "Tiger Team" in the Army Corps of Engineers said the fix was inadequate. "We did not find any indication that the proposed equipment modification measures will be effective in preventing future incidents." It said the causes of eight of the meltdowns hadn't been determined.
But one unnamed official told Forbes the problem came down to wiring and positioning of the machines:
"The problem, and we all know it, is that they put the appliances too close together," a person familar [sic] with the database construction told FORBES, describing the arcs as creating "kill zones." "They used wiring that's not adequate to the task. We all talked about the fact that it wasn't going to work."
So far, the Tiger Team is unconvinced the contractors know how to fix this, writing that the problems "are not yet sufficiently understood to ensure that [the NSA] can expect to avoid these incidents in the future." When it's finally up and running, the data storage center is expected to be bigger than anything operated even by Google (though its exact size is classified). Until then, it's more like a zettabyte-sized headache.