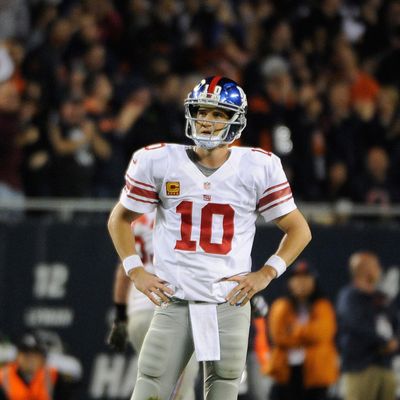 Eli Manning probably just threw an interception.
Photo: David Banks/Getty Images
The Giants weren't actually completely disgusting last night, but they were not not-disgusting enough to actually, you know, win the game. The Giants lost last night 27–21 to the Chicago Bears, falling to 0-6 on the season, their worst start since 1976. 
Eli Manning threw three more interceptions and made at least as many Manningfaces. He now "leads" the league with fifteen interceptions thrown and is on pace to finish with 40 on the season, coming up just shy of the all-time record, set in 1962 by George Blanda. 
Now for the good news: By holding the Bears to 27 points, the Giants did manage to avoid becoming the first team in history to give up at least 30 points in each of their first six games. It's kind of like "Congrats, you didn't wet your pants today," but it's all we have.