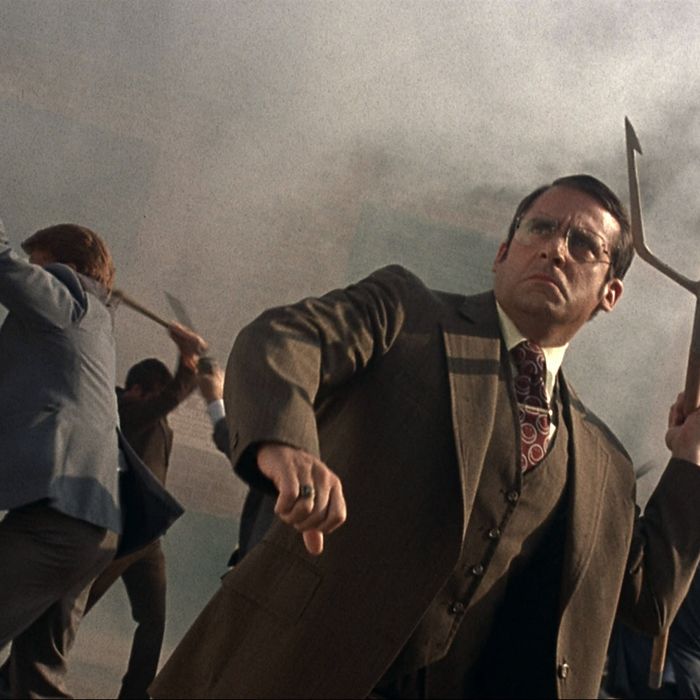 It's Day Two of the first government shutdown since 1996, and we don't seem any closer to a resolution than we were on Day One. As Democrats stand firm on a "clean" continuing resolution and Republicans increasingly focus their efforts on ensuring that World War II veterans can visit monuments, which is the nation's most pressing issue right now, we'll be keeping track of all the latest developments right here.
10:58 p.m.: Republican Rep. Marlin Stutzman explains the shutdown in one overly-candid quote:  "We're not going to be disrespected …. We have to get something out of this. And I don't know what that even is."

9:10 p.m.:  Innocent question from John Boehner:  Why do Senate Democrats hate nature and learning?

7:38 p.m.: President Obama, Joe Biden, Harry Reid, Mitch McConnell, Nancy Pelosi, and John Boehner met for 90 minutes at the White House earlier this evening. They made no progress. Afterward, Reid told reporters tha Boehner "can't take yes for an answer," while Boehner said Obama "will not negotiate." 
6:13 p.m.: The House has passed a bill to let D.C. spend money — just like all the other big-boy cities! (It will probably die in the Senate.)
5:28 p.m.: BUT WILL FOOTBALL STILL HAPPEN?
5:16 p.m.: "50 Nubian goats, tasked with eating poison ivy at a New Jersey historical site, were furloughed."
5:15 p.m.: Here's Harry Reid pretending like he doesn't want to murder kids who have cancer. 
5:00 p.m.: Shorter Sarah Palin: Obama hates World War II veterans. Obama hates children. Benghazi. Obamacare. 
4:48 p.m.: "Defund Obamacare Symbolic Balls for your Representative/Senator"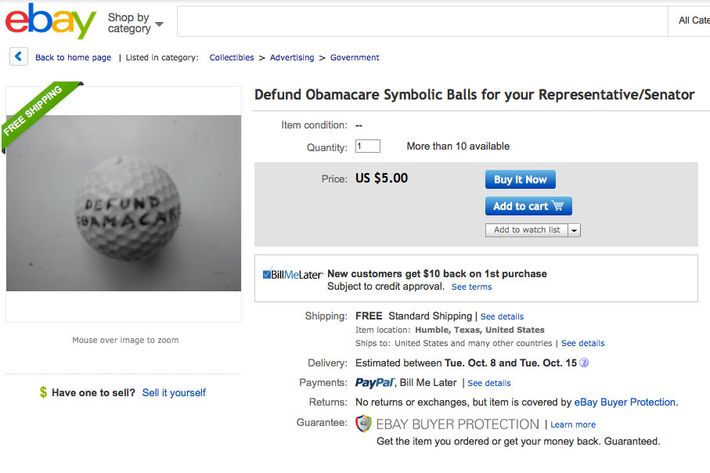 4:34 p.m.: Darrell Issa is now probing whether the closure of the World War II memorial was "political." Because if there's one thing the GOP is against, it's shutting things down for political reasons. 
4:13 p.m.: In an interview with CNBC, President Obama said Wall Street "should be concerned," a.k.a., should help me convince these crazy people to stop being so crazy. Obama also said he's "exasperated" with Republicans and noted that John Boehner could end the shutdown "in the next ten minutes" if he just brings a clean continuing resolution up for a vote. 
3:45 p.m.: "The RNC has put aside enough money to hire five security personnel to keep this memorial open to veterans and visitors," RNC chairman Reince Priebus said in front of the World War II memorial today. "Ideally, I'd hope to hire furloughed employees for this job." #hero
3:11 p.m.: Never underestimate the ability of a Republican to connect Benghazi to any other thing:
3:03 p.m.: Harry Reid hates kids with cancer. 
2:38 p.m.: Because our brave and proud World War II veterans deserve nothing less than to be used as political props. 
2:25 p.m.: Follow along if you can: GOP instigates government shutdown. World War II memorial closes because of government shutdown. GOP complains that World War II veterans can't get access to memorial. GOP has the "upper hand" now. 
2:03 p.m.: A number of D.C. food establishments are offering specials to furloughed government employees but asking members of Congress to pay double. Take that, The Man.
2:00 p.m.: Out in Idaho, the shutdown delayed and diminished the search and rescue mission for a woman who went missing in a national park. 
1:18 p.m.: Britney Spears has some thoughts. 
1:02 p.m.: Progress.
12:56 p.m.: "At one point, a veteran yelled 'Sarah!' as Bachmann approached him. She kindly explained that she is not, in fact, Sarah Palin." The shutdown was all worth it. 
12:54 p.m.: Eric Cantor is "really tired of playing games," which is why he wants Congress to vote on restoring National Institutes of Health funding so it can continue helping kids with cancer, while keeping the rest of the government closed. So tired of the games. 
12:42 p.m.: Almost as good as the park itself: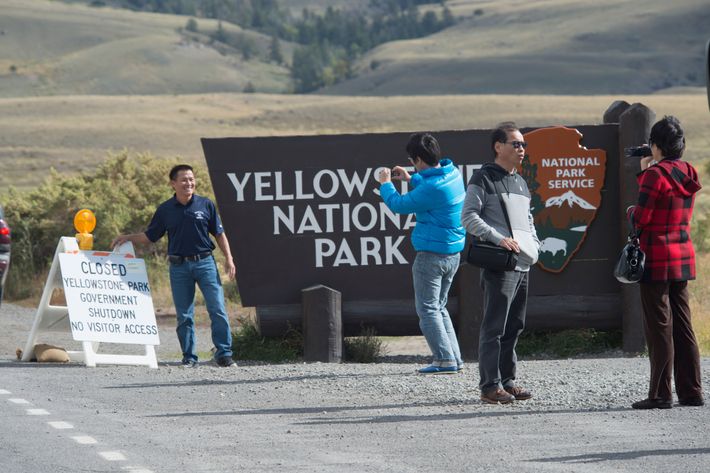 12:12 p.m.: We know the feeling …
11:59 a.m.: Everyone has really high expectations for this meeting between Obama and congressional leaders.
11:45 a.m.: President Obama has invited congressional leaders to the White House at 5:30 this afternoon. "We're pleased the president finally recognizes that his refusal to negotiate is indefensible," John Boehner's spokesman says, passive-aggressively. 
11:10 a.m.: It took some real political courage, but members of Congress have managed to open up the World War II memorial for World War II veterans. 
11:03 a.m.: If there's one thing Congress can agree on, it's exploiting World War II veterans for maximum political benefit. 
10:35 a.m.: Director of National Intelligence James Clapper points out that putting American intelligence-community employees out of work is not great for our national security. After Snowden we only have like four or five more secrets and we really can't afford to lose them. 
9:56 a.m.: Speaking of World War II …
9:42 p.m.: From Jonathan Chait's latest, on what the shutdown means for the much more important fight over the debt ceiling: "Evidence can be found for both alarm and complacency, but the preponderance of proof seems to lie on the side of freaking out."
9:25 a.m.: Apparently this D.C. memorial for the 2nd Infantry Division's World War I casualties is off limits unless you want to participate in some "1st amendment activities." Can a D.C. local please grab a menorah and test this policy? Take photos and report back. Thanks. 
9:14 a.m.: The Daily Caller reports that before those World War II veterans stormed the World War II memorial yesterday, the White House had denied a request to open it up for them, presumably because the White House hates World War II veterans and wants them to feel maximum sadness. 
9:02 a.m.: Why won't John Boehner bring a clean continuing resolution to the floor, even though it would likely pass with a majority of Democrats and Republicans, thus ending the shutdown? One House Republican tells Byron York that Boehner is "scared" that the 30 or so hardcore shutdown supporters in the House "could somehow force a speaker's election" if that were to happen. In other words, 800,000 government employees are out of work right now so John Boehner can keep his job. 
9 a.m.: The shutdown ruined this kid's trip to D.C. and Obama's trip to Asia next week. The White House announced this morning that, because of the shutdown, Obama will have to skip his scheduled stops in Malaysia and the Philippines. Those countries will pretend to be fine with getting John Kerry instead.