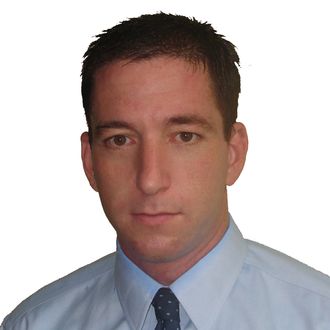 The Guardian journalist Glenn Greenwald, who brought to the paper's fledgling U.S. operation the massive Edward Snowden leaks, is leaving for a top-secret but extremely well-hyped new gig, Buzzfeed reports. The mystery project is a "once-in-a-career dream journalistic opportunity" and a "momentous new venture," Greenwald told Ben Smith, promising it would "be unveiled shortly." It's "a very well-funded … very substantial new media outlet," he added, with "no preexisting institutional strictures on what you can do."
"When people hear what it is, there is almost no journalist who would say no to it," said Greenwald.
Known mostly as a columnist on civil liberties, Greenwald became a household name internationally after publishing Snowden's NSA documents, a batch of groundbreaking information that he says he's yet to exhaust. As he's said previously, "Only [filmmaker] Laura [Poitras] and I have access to the full set of documents which Snowden provided to journalists," promising, "The majority of what is extremely newsworthy has yet to be published, … There's thousands and thousands of unbelievably revealing and fascinating documents. It's going to take a long time for everything to be reported that should be reported."
That should make for quite the foundation for his new operation, one that won't be solely based in politics. Greenwald described the job as "a general media outlet and news site — it's going to have sports and entertainment and features. I'm working on the whole thing but the political journalism unit is my focus."
Long an outsider provacateur — Greenwald lives in Brazil — now he'll be the boss. A former attorney who grew "bored with litigating," he's always had an independent bent, first as the proprietor of the blog Unclaimed Territory and then as a contributing but largely autonomous writer at Salon. Greenwald's job at the Guardian was similarly freewheeling, alternating between opinion and reporting, with his byline also popping up at other outlets.
"I was getting really frustrated," Greenwald recently told The New Yorker of the Guardian's delay in pulling the trigger on the Snowden scoops. "I was putting a lot of pressure on them and insinuating that I was going to go publish elsewhere." It sounds as if he'll be able to do what he pleases going forward, although without the protections afforded by a mainstream legacy publication.
"Glenn Greenwald is a remarkable journalist and it has been fantastic working with him," said the Guardian's Jennifer Lindauer in a statement about his departure. "We are of course disappointed by Glenn's decision to move on, but can appreciate the attraction of the new role he has been offered. We wish him all the best."