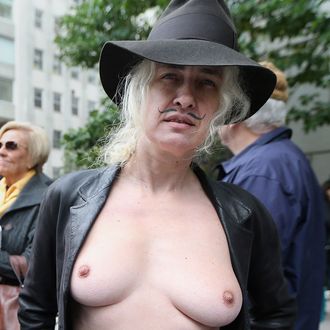 The SFW version.
Photo: Mario Tama/Getty Images
We repeat, once again: Breasts are not a crime. Holly Van Voast, the "topless paparazzo" and free-boob-awareness activist, has finalized a $40,000 settlement for all of the times she was arrested for not wearing a shirt in public over the years, despite her actions being perfectly legal. "The lawsuit covers 10 incidents," she told the Village Voice. "But that doesn't count the many, many times I talked myself out of handcuffs. That happened so much." Ah, sweet vindication.
In her battle with prude police, Van Voast was often sent for psychological evaluation — and once held for six days — with officers believing she was "not of sound mind and body." In court once, to prove her dedication to the cause, Van Voast stripped down (in front of her 89-year-old attorney). She accepted the NYPD's settlement, she said, because, "All of us agreed I would really not do very well with a judge or a jury."
Van Voast has since moved to Kentucky, where she's working on her book, Topless Zodiac.