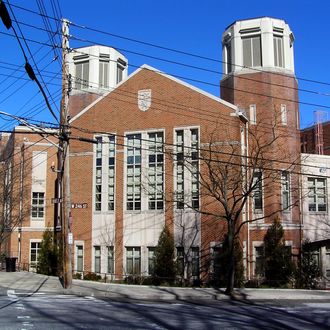 Shenanigans are afoot at New York City's exclusive, cutthroat Horace Mann School, where parents of high-school seniors have been alerted to one of the scariest things imaginable in their world: An anonymous saboteur is messing with college applications.
According to a letter from the prep school's director of college counseling, "Someone in our community sent a letter about a current senior to a number of colleges with the goal of damaging that student's prospects for admission." Parents can rest assured, an investigation — and "an effort to minimize the damage" — is underway.
"In 20 years of college admissions, I have never witnessed anything so disrespectful," wrote Canh Oxelson in the letter to all senior parents. "For a student to have worked so hard for so many years, only to see those efforts jeopardized by an act of sabotage is absolutely unconscionable."
Horace Mann has had more than its share of scandal lately: Earlier this year, the school agreed to hundreds of thousands of dollars in settlements with alumni who had been subjected to decades of sexual abuse between 1962 and 1996. The school's board and administration faced intense criticism for not acting quickly enough, and for allegedly sweeping the abuse allegations under the rug.
In this week's letter to parents, the attempted college-admissions treachery is described as "an assault on the core values of this community."
It goes on: "There are positive and negative stereotypes out there about the HM community and while we don't have control over everything that is said about us, we do have some ability to shape those opinions among those trying to get to know us."
"When a member of our Community does something so egregious, it makes people question what's happening here. It feeds the perception that we are hypercompetitive to the point of being unhealthy. This isn't a good message for our students, our families, or for people who are on the outside looking in. Certainly, college admissions officers are included in this last group."
Horace Mann did not immediately respond to a request for comment.
Here's the full letter: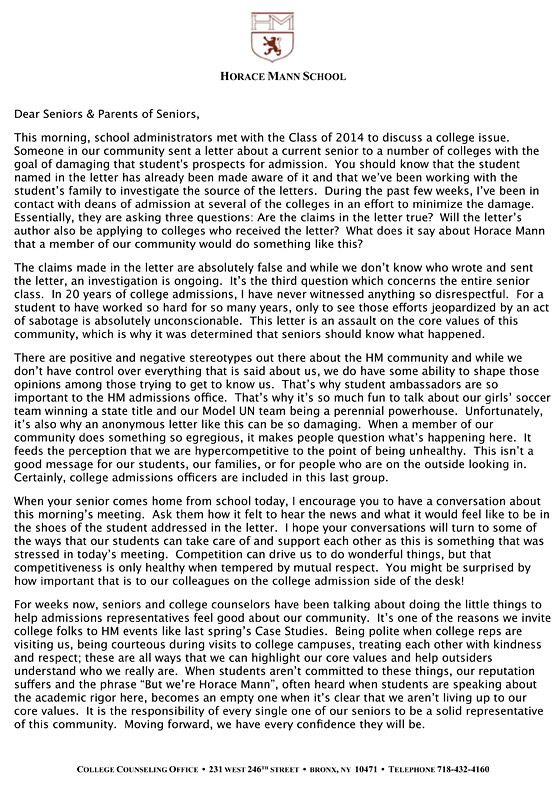 If you have any info on the damaging letter, the culprit, or the colleges involved, drop us a line!