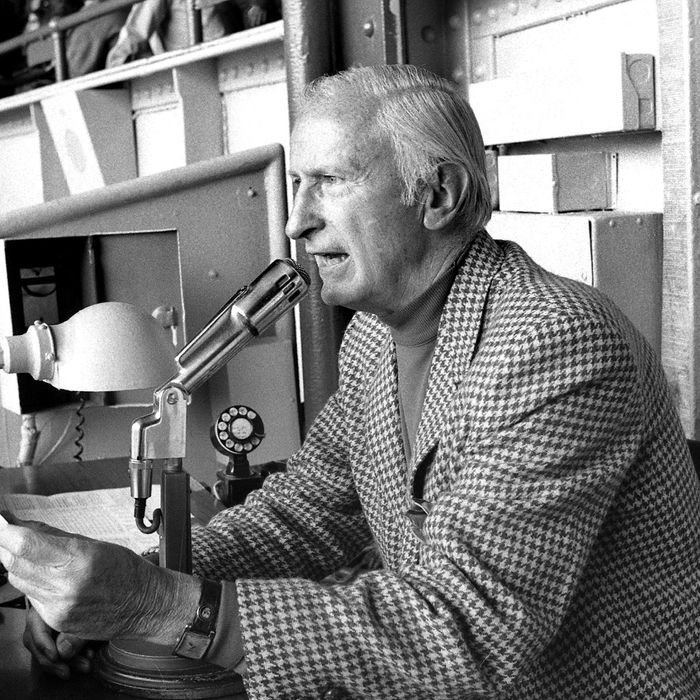 Bob Sheppard, in 1972.
Photo: Frank Hurley/NY Daily News Archive
When Mariano Rivera emerged from the bullpen for his final Major League appearance last month, he was introduced not by Yankee Stadium's current public-address announcer, Paul Olden, but by a recording of the late Bob Sheppard, who served as the public-address announcer at the old Yankee Stadium from 1951 until 2007. Sheppard died in 2010, but a trove of recordings of his voice lives on at Yankee Stadium thanks to planning by the team's scoreboard department. And it's these recordings that make moments like the one from Rivera's final game possible.
The Sheppard audio in the Yankees' archives was recorded in a number of different ways. The clip of Rivera's introduction, for instance, was recorded at some point during Sheppard's final years at Yankee Stadium, in case Sheppard himself wasn't at his microphone when Rivera entered the game. Explains Greg Colello, the Yankees' director of scoreboard and video production, "It was just for us to have in our audio system as a backup just in case he was ever in the restroom when Mariano was coming in or just not at his microphone or something like that." The clip of Sheppard introducing Derek Jeter — which, by Jeter's request, has been used to introduce his home at-bats since Sheppard died in 2010 at the age of 99 — was recorded around the same time.
But the Yankees also recorded a number of things in order to archive them for future use. In the off-season between 2007 and 2008, the scoreboard department went out to Sheppard's home in Baldwin, Long Island, to record the longtime public-address announcer introducing a wide range of former players, managers, owners, and even broadcasters.
In that particular 90-minute session, Colello estimates that they recorded introductions for roughly 100 names from the early 1900s through 2008, including all the former Yankees in the Hall of Fame, everyone honored in Yankee Stadium's Monument Park, everyone on the roster at that time, and various other notable names, like the key members of the late-nineties dynasty teams. (Among other things recorded in that session: the starting lineups from the first game at Yankee Stadium in 1923, the first game of Sheppard's career in 1951, and the first game of the remodeled Yankee Stadium in 1976.) They also recorded Sheppard introducing special events like Opening Day and Old-Timers' Day — clips that are still used each season. Colello says Sheppard recorded these clips in his living room, speaking into a microphone the Yankees brought and hooked up to a video camera. (They weren't interested in the video footage, he explains; they just didn't have an audio recorder for the job.)
There were other trips out to Baldwin as well. Colello says that once they knew for sure that Sheppard would be unable to attend the 2008 All-Star Game at Yankee Stadium, they went out to record audio to be used for that night. (One of those All-Star Game–specific clips was later used to introduce Jeter when he batted for the American League in the 2010 Midsummer Classic, just days after Sheppard's death.) And toward the end of the 2008 season, Sheppard recorded audio to be used for the final game at old Yankee Stadium.
The Yankees had also made a number of trips to Sheppard's home to record audio while he was still actively working as the Stadium's public-address announcer. Colello began working for the Yankees in 2005, and he says that from 2005 to 2008 there were various visits to Baldwin to record fantasy-camp-participant names, a greeting for the groundbreaking ceremony of the new Yankee Stadium, and other assorted clips.
Some audio, however, wasn't recorded specifically to be used at a later date. When the Yankees recorded their internal scoreboard feed, one of the audio sources was Sheppard's microphone. And so audio from important days — Old-Timers' Days, Opening Days, player-recognition days — was archived on tape in a storage room at Yankee Stadium. (It's this audio, for instance, that allows Sheppard's voice to introduce John Sterling and Michael Kay at Old-Timers' Day each year.) Lesser ceremonies — like the recognition of a sponsor — would not have been archived, but many other things were. "Anything that has some kind of meaningful significance to the history of the organization we would have captured," says Colello.
The Yankees didn't have a specific use in mind for many of the clips. For instance, recording the names of players from the Joe Torre–era championship teams has allowed the video-production department in recent years to include clips of Sheppard's introductions in some video montages at the organization's annual Welcome Home dinner, when the Pride of the Yankees Award is presented.
"A lot was done just so we had our history recorded," says Colello. "We have all the footage of all the players and iconic moments and memorable moments throughout our history, and I know, just from our point of view in the scoreboard department, we looked at Mr. Sheppard as being one of those iconic figures in Yankees history. So, at least from my standpoint, it's kind of our tribute to Mr. Sheppard. He was such an iconic figure, and even though he didn't play on the field, his voice and what he meant to the organization was so impactful that we kind of want to remember him and have this be our tribute to him."