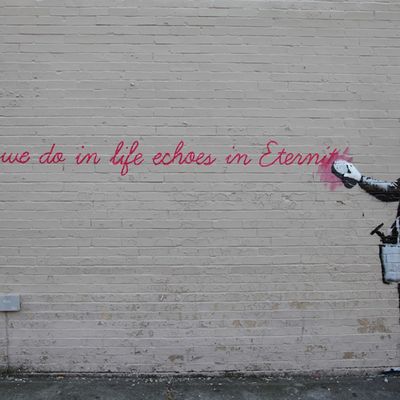 Banksy completed his NYC residency today with some balloons in Queens. "And that's it," the artist wrote on his website. "Thanks for your patience. It's been fun. Save 5pointz. Bye." This post was originally published on October 16, but now includes the entire month's worth of local Banksy works.
It's the talk of the town, especially on the Internet: Banksy, world-renowned recluse and PG-13 provocateur is wreaking organized havoc on the streets of New York City. The result, the public show "Better In Than Out," is part scavenger hunt and part performance piece, with a new work popping up each day throughout the month of October, in neighborhoods far and wide.
"Accessible to all, Banksy is the easy-access photorealist of graffiti artists," wrote New York art critic Jerry Saltz. "The placement of the paintings gets tweeted out; fans rush to the site to be the first to see the work; they take a selfie with it then tweet it out to more people, and more people show up, flash-mob style."
It's a thoroughly modern premise deserving of a thoroughly modern map: Below, Daily Intelligencer has plotted all of the pieces — along with some before and after GIFs of the impermanence and graffiti-on-graffiti crime — so you can visit them while they last, or just see them all in one digital place.
(Special thanks to our friends at Animal New York for their vigilant Banksy documentation.)