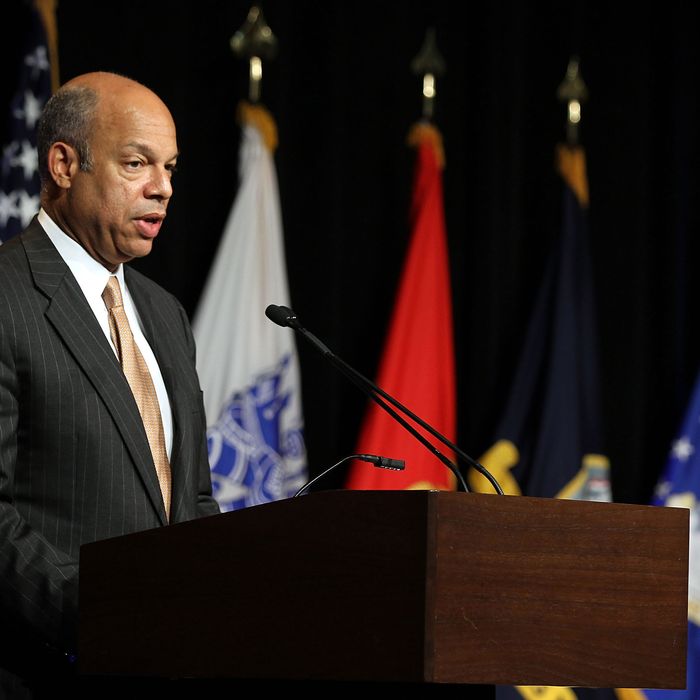 Photo: Alex Wong/Getty Images
Despite some initial hype, President Obama did not ask NYPD commissioner Ray Kelly to replace Janet Napolitano as Homeland Security secretary, but will instead go with former Defense Department general counsel Jeh (pronounced "Jay") Johnson, the Daily Beast reports. In addition to serving as the Pentagon's top lawyer during Obama's first term — and leading very early fund-raising for his presidential campaign — Johnson served as general counsel for the Air Force under Bill Clinton and has worked four different times at the New York law firm Paul Weiss.
Upon his last return to the private sector at the beginning of the year, when asked if he would support Hillary Clinton in 2016, Johnson told The Wall Street Journal, "This is a new chapter of my life. I don't expect to get into public service and politics again." But they pulled him back in.
The Daily Beast calls Johnson's appointment, expected to be announced tomorrow, "something of surprise," noting that Kelly, along with other big names floated for the job by the press, never even interviewed with the White House.
Johnson, according to his law-firm bio, "is credited with spear-heading reforms to the military commissions system at Guantanamo Bay adopted by the Congress in 2009, and co-authoring the 250-page report that paved the way for the repeal of 'Don't Ask, Don't Tell' by the Congress in 2010." He later spoke out against the Defense of Marriage Act.
Johnson was also involved in the Osama bin Laden raid: "On the Sunday morning of the secret mission he went to church — not a regular habit for him," the Daily Beast reports. "He felt jittery throughout the day. To calm his nerves, he planted impatiens in his Georgetown garden."