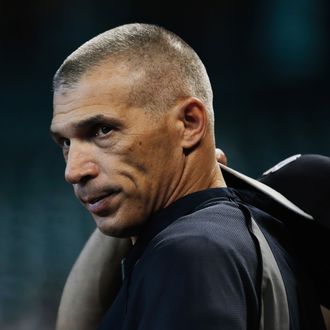 Joe Girardi.
Photo: Scott Halleran/Getty Images
The Yankees missed the playoffs this year for the first time since 2008, but the disappointing season wasn't being pinned on Joe Girardi. In fact, considering all the injuries the team dealt with this year, Girardi will likely get some consideration for American League Manager of the Year (though he wouldn't get our vote — or our second-place vote, for that matter).
But while it wasn't in doubt whether the Yankees wanted him back, it wasn't clear whether he wanted to return. He talked after the final game of the season about how he'd speak with his family about his future, and there was speculation that he might be a fit for the vacant Cubs job because he grew up in Illinois and once played for the team.
That speculation can stop now, though: The Yankees announced today that Girardi has signed a four-year extension contract to remain the team's manager through 2017. He'll reportedly get $4 million per year, plus, presumably, unlimited binders.