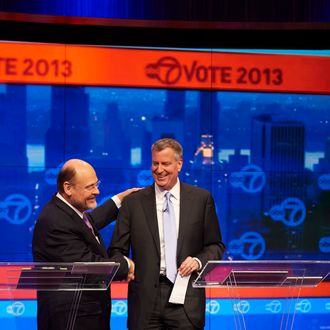 Photo: Pool/2013 Getty Images
Following the fear-mongering, assault-heavy nightmare scenario presented in "Can't Go Back," desperate Republican mayoral candidate Joe Lhota is back with a new video ad: a two-and-a-half-minute dance remix of the criticisms Bill de Blasio faced in the Democratic primary. It is … intense. We kept a diary throughout.
0:04: Oh my god, that's loud.
0:14: Is this … dubstep?
0:24: Remember when everyone ganged up on Bill de Blasio? It didn't work.

0:37: Remember Christine Quinn? Also didn't work.

0:59: Yep, definitely dubstep.
1:09: *Pops a molly, dances wildly*
1:58: Water break.
2:01: Wait a second. Quinn, Bill Thompson, John Liu … have all since endorsed De Blasio.
2:30: Doesn't matter — beat drop. WUBWUBWUBDRRRZZZ.
2:35: Headache.