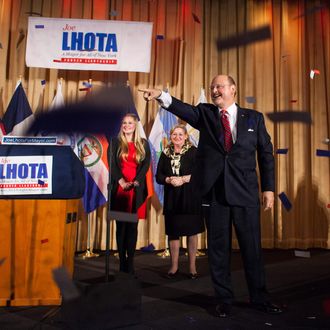 You can see his family if you squint.
Photo: KEITH BEDFORD/Reuters/Corbis
You know all about Bill de Blasio's family. But it took Republican Joe Lhota until the very end of an election he's losing badly to introduce his own to New York City. There's no Afro, but they are in the New York Post today: Joe's "super pack" — that's what he calls his family, apparently — including his wife Tamra and 22-year-old daughter Kathryn, a Brooklyn Heights native ("no doubt the lone Republican in her Montessori school"). The Lhotas also have a dog, a Labrador, because they're average Americans, not some kind of monsters. And together they make macaroni and cheese casserole, a recipe for which is attached. But this does not feel like a game-changer.
The last-minute shift in strategy on the personal front does make some sense as a final effort to soften Lhota's image and make voters feel like they might maybe know him a little. There is some familial banter: "She's so concerned I'm a metrosexual!" Lhota says of his daughter. "But I always know what to buy Kathryn for Christmas. Shoes … I go to Marni on Madison Avenue."
But when the Post reports "the Republican mayoral candidate's fiercest supporters are here at home," it's almost painfully literal. As the Times notes today, de Blasio is "poised to win the race for mayor of New York City by a historically large margin," with a new poll finding his lead steady around 45 points. No macaroni and cheese recipe is going to touch that.