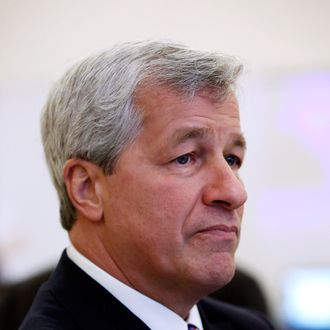 Photo: Jason Alden/Bloomberg
JPMorgan Chase and the Justice Department have reached a "tentative" $13 billion deal to settle investigations into the bad mortgage-backed securities the bank sold before the financial crisis, according to various reports. Under the terms of the proposed agreement, JPMorgan would pay $9 billion in fines and $4 billion in "consumer relief" for struggling homeowners. If approved, it will be the largest such settlement ever paid to the federal government.
The deal would resolve a suit brought by the Federal Housing Finance Agency alleging that JPMorgan misled Fannie Mae and Freddie Mac about the quality of the loans the bank sold to the mortgage companies in between 2005 and 2007. It would also resolve a smaller case brought by New York Attorney General Eric Schneiderman, who sued JPMorgan a year ago over similar practices conducted during the same period by Bear Sterns, which JPMorgan bought in 2008.
Until recently, CEO Jamie Dimon was reportedly offering to pay $11 billion and refusing to increase the amount unless the Justice Department agreed to release JPMorgan from criminal liability in the securities sales. However, the bank's negotiators apparently backed down on those demands sometime Friday night. As a result, the Justice Department will likely be free to continue its ongoing criminal inquiries into individuals responsible for JPMorgan's mortgage practices, and the bank will be required to cooperate with those investigations. Spokespeople for both the Justice Department and JPMorgan declined to comment on any of this on Saturday.