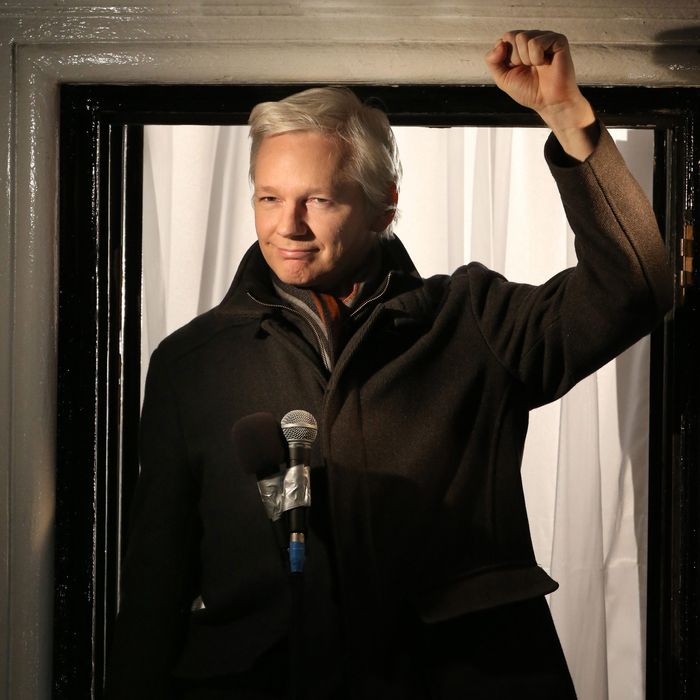 Photo: Peter Macdiarmid/Getty Images
The Fifth Estate, starring Benedict Cumberbatch as international man of mystery Julian Assange, is happening whether the WikiLeaks founder likes it or not. (He does not.) After leaking the film's script, WikiLeaks has followed up its information assault on the twisted scandal-lovers of Hollywood by publishing Assange's response to Cumberbatch after the actor requested a meeting "in order to acquire Mr. Assange's manner." Spoiler: Assange said no — and did so in his trademark overblown style.
For example:
7. "Our paths will be forever entwined."
6. "Feature films are the most powerful and insidious shapers of public perception, because they fly under the radar of conscious exclusion."
5. "[The film] is going to smother the truthful version of events, at a time when the truth is most in demand."
4. "It does not seek to simplify, clarify or distil the truth, but rather it seeks to bury it. It seeks to ride on the back of our work, our reputation and our struggles."
3. "Consider the consequences of your cooperation with a project that vilifies and marginalises a living political refugee to the benefit of an entrenched, corrupt and dangerous state."
2. "You will be used, as a hired gun, to assume the appearance of the truth in order to assassinate it."
1. "I must therefore question the choices and motives behind it: the opportunism, fears and mundanity; the unwritten rules of film financing and distribution in the United States; the cringe against doing something useful and brave."
You can read the full letter here. "Cumberbatch's reply to this e-mail was courteous and considered," says WikiLeaks in a press release. "The actor communicated to Assange that aspects of the film's script were troubling to him."
Regardless, the movie opens next Friday in the United States, a fact WikiLeaks, in its attempt to set the record straight, has also done its part to publicize.