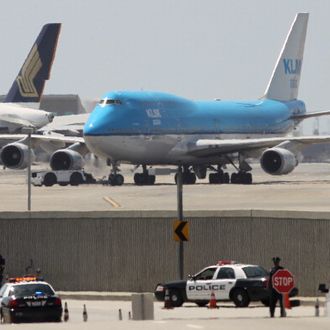 Police officers check vehicles at a traffic security check point as jets taxi into take-off position at Los Angles International Airport (LAX) on April 22, 2013 in Los Angeles, California. Delays have been reported throughout the nation because of the furloughing of air traffic controllers under sequestration. The average delay overnight in the Southern California Terminal Radius Approach Control (TRACON) was was three hours.
Photo: David McNew/Getty Images
The mystery of the LAX dry ice bombs has been pretty much solved: We know who the suspect is, and now we have an idea as to why he did it: "He was a prankster," LAPD Deputy Chief Michael Downing told the Los Angeles Times about Dicarlo Bennett, the airport worker arrested for making the bombs. "He thought it was funny." Bennett was apparently curious to see how the things worked, so he swiped some discarded dry ice and made some. Cops didn't think it was funny: Bennett is being held on $1 million bail.