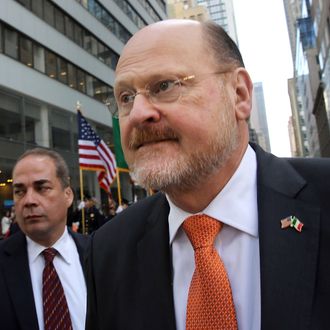 Lhota tries to block out thoughts about Columbus's brutality during the parade.
Photo: Spencer Platt/2013 Getty Images
Bill de Blasio and Joe Lhota are both half Italian, and the only thing they could agree on while marching in today's parade down Fifth Avenue is that Columbus Day is mainly about celebrating Italian Americans. "The historical figure of Columbus is complicated, to say the least," de Blasio said. "There's some troubling things in his history." Lhota rejected that vaguely disparaging remark, telling the Daily News, "Bill wants to talk about the past. That's all he ever wants to talk about." However, his campaign spokeswoman seemed eager to make a historical comparison. "Amazing that @deBlasioNYC has a problem with Columbus but takes no issue with Sandinistas. #hypocritebill," Jessica Proud tweeted.
When Politicker asked Lhota what he thinks of Columbus's role in European imperialism, he replied, "I think that is an inappropriate question to ask on a day when we're honoring his birthday." The day actually celebrates Columbus landing in the Americas, but he has a point. Americans are constantly analyzing the explorer's voyages to the Caribbean and his subsequent abuse of the native peoples, so for one day each year we should probably give it a rest.