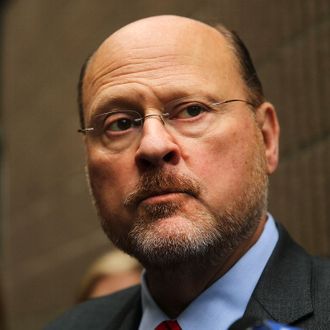 Photo: Spencer Platt Images/Getty
You know it's a New York City election when one candidate is claiming he's barely Republican (or is asked about his thoughts on mohels sucking blood from babies' penises post-circumcision). On Wednesday, Joe Lhota released his first TV ad of the general election. "Bill de Blasio is pro choice. Joe Lhota is pro choice. Lhota supports gay marriage. De Blasio supports gay marriage. Both support decriminalizing marijuana," says the narrator. The main difference between the two men, according to the ad? De Blasio wants to "raise taxes and supports reckless government spending," while Lhota is for cutting waste and putting "more money back in your pocket." Supposedly "Democrats agree" that Lhota would make a great mayor – and somehow the fact that he's a Republican never comes comes up.
In addition to the ad (which is also available in Spanish), the Daily News reports Lhota sent an e-mail to supporters on Wednesday asking them to "reach out to 5 registered Democrats in New York City that Joe can count on to vote for him on Election Day." They're also urged to send the Democrats' names and contact information to the campaign, "so that we can add them to Joe's bipartisan network of supporters."
Democrats outnumber Republicans six to one in the city, and Lhota is already down by more than 40 points. Thus, courting Democrats was his only option, even before de Blasio tried to link him to the Congressional Republicans holding the government hostage.
Though Lhota insists he finds the shutdown "unconscionable" and thinks we shouldn't have "extremists run the House," on Wednesday de Blasio doubled down on his accusation that Lhota is essentially a more beardy, balding Ted Cruz. Politicker reports that after sending out a press release comparing Lhota to Mitt Romney and George W. Bush, de Blasio railed against Lhota's suggestion that he's a different kind of Republican at a campaign event in Brooklyn.
"You can't be a Republican bystander. You can't say, you know, 'Oh I'm an innocent liberal Republican and all those other things happened. Too bad,' " de Blasio said. "If you're a member of the Republican Party you're buying into the whole idea, and it has not been pretty to watch what the Republican Party has done to this country and what it is doing this very day through the Tea Party members of Congress who have literally shut down our government against the will of the people."
De Blasio stopped short of quoting W.'s "you're either with us or against us." It's too bad for Lhota, a lifelong conservative, that he's sworn off referring to himself as a libertarian and writing sassy things on Twitter. Otherwise, he could remind voters of that time he told a Twitter follower, "Don't confuse libertarianism with tea party crap."