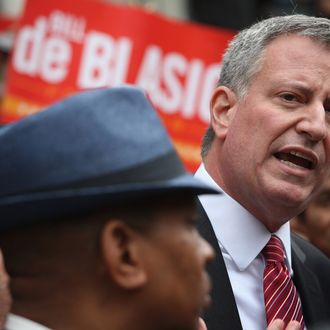 Democratic candidate for New York City mayor Bill de Blasio takes part in an immigration reform event on October 23, 2013 in New York City. De Blasio spoke in favor of comprehensive immigration reform at a campaign event held on the steps of City Hall. He is leading Republican challenger Joe Lhota in the polls ahead of the November 5 vote.
Photo: John Moore/Getty Images
A new Quinnipiac poll shows Joe Lhota further narrowing Bill de Blasio's lead — to, uh, 39 points. More noteworthy is that a bare plurality of voters say they don't expect De Blasio to keep his campaign promises. Even among Democrats, only 53 percent believe De Blasio will be able to keep his promises. So, uh, no pressure, we guess?