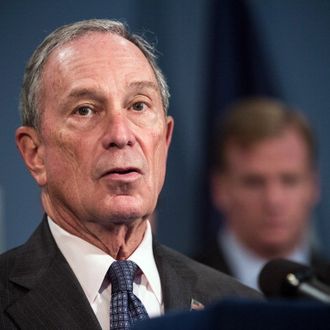 New York City Mayor Michael Bloomberg speaks at a press conference regarding Super Bowl XLVIII, which New York and New Jersey will host at MetLife Stadium on February 2, 2014 in East Rutherford, New Jersey, on October 10, 2013 in New York City. Bloomberg was joined by the National Football League's (NFL) commissioner Roger Goodell, co-chairmen of the NY/NJ Super Bowl Host Committee, and various city officials.
Photo: Andrew Burton/Getty Images
While Mayor Michael Bloomberg stays out of the spotlight in the race to replace him, he's getting some very positive attention from a charity called the Genesis Philanthropy Group, which named him to win its first Genesis Award, a $1 million prize it's calling the "Jewish Nobel Prize." The award, which Israel Prime Minister Benjamin Netanyahu will present, goes to "exceptional people whose values and achievements will inspire the next generations of Jews," organizers told the New York Times. Bloomberg will give the $1 million to charity.