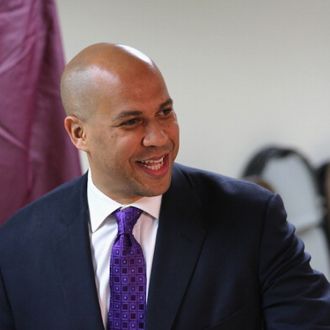 Photo: John Moore Images/Getty
The race between two New Jersey mayors to fill the late Frank Lautenberg's Senate seat has a winner: As everyone expected, the Associated Press is calling the race for Newark Mayor Cory Booker. The 44-year-old Democratic mayor with more Twitter followers than constituents will become the state's first black senator, by a vote of 54.9 percent to 44 percent, with 94 percent of precincts reporting, according to the New York Times. The win means Booker will finish out Lautenberg's term through next year. If he wants to serve longer (and he almost certainly does) he'll be back on the campaign trail in 2014 for election to a full term. Meanwhile, his Twitter followers are celebrating in their own ways: By showing some skin and asking to have their driveways shoveled.
The only thing close to a scandal for Booker in this election was the revelation that he'd been mildly flirting with a Portland stripper named Linsie Lee, who works at a vegan strip club. It didn't really matter, since the messages were innocent enough and Booker's not married or anything. On Wednesday night, Lee tweeted a topless NSFW congratulations message to Booker, which is more explicit than anything revealed about their exchange.
Booker gained national fame in part by responding to specific requests for help that people shared with him on Twitter – he famously shoveled driveways during the big blizzard in 2010. Now that he's en route to Washington, D.C., his reputation precedes him: