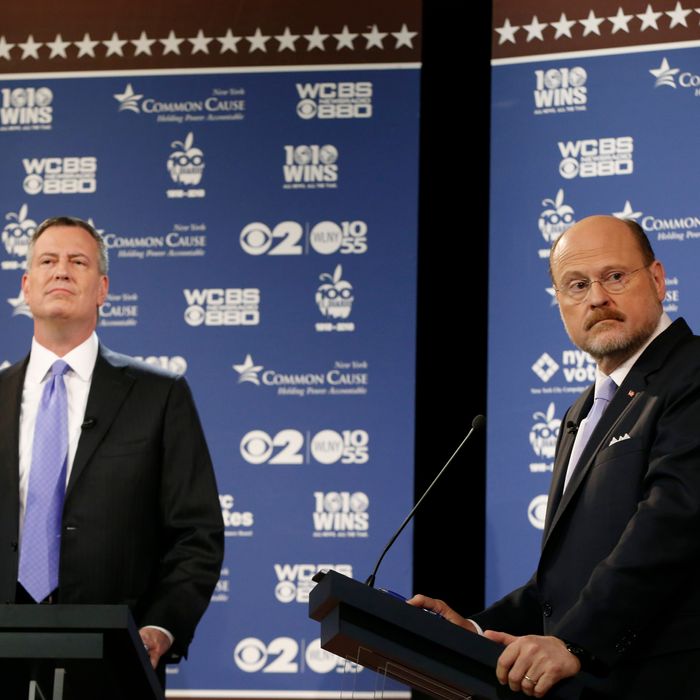 Can't even look at each other.
Photo: Pool/2013 Getty Images
Most Frequently Mentioned Mayors:
Michael Bloomberg: Nine times. 
Rudy Giuliani: Six times.
David Dinkins: Two times.
Weirdest Question for a Mayoral Debate That Is Not Taking Place in a Post-Apocalyptic Australia: What would you do if you and your family were surrounded by a biker gang on the highway? (De Blasio and Lhota both said they would defend themselves with "everything they had.")
Time It Took for Bill de Blasio to Mention the "Tale of Two Cities": 55 minutes
Best "I'm Beating You By 44 Points Face":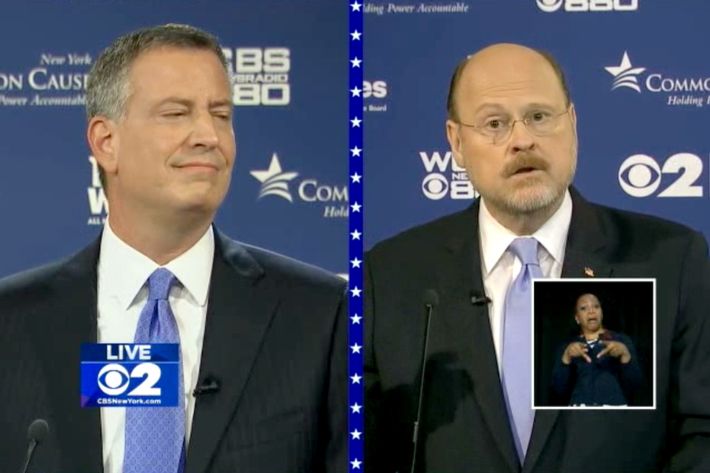 Seven Things on Which De Blasio and Lhota Agree:
• Building "Seaport City," a new Battery Park-esque neighborhood in the East River.
• Opposing the outer-borough green cab program.
• Banning horse-drawn carriage rides. (De Blasio wants to use old-timey electric cars instead, Lhota wants to use the same carriages but motorized.)
• The as-yet-unopened 9/11 Museum should cost less than $20 to $25. 
• Not necessarily keeping the new pedestrian plazas in Times Square and Herald Square.
• Changing the state Constitution to legalize gambling.
• Fighting back against biker gangs with everything you have.
Best Story: Joe Lhota on why he called Mayor Bloomberg an idiot in the days following Hurricane Sandy.
Best Indirect Play for the Seinfeld Vote: When Lhota says "yadda yadda yadda" 23 seconds into the above clip.
Best Facial Expression: Lhota when the topic of him calling Mayor Bloomberg an "idiot" came up.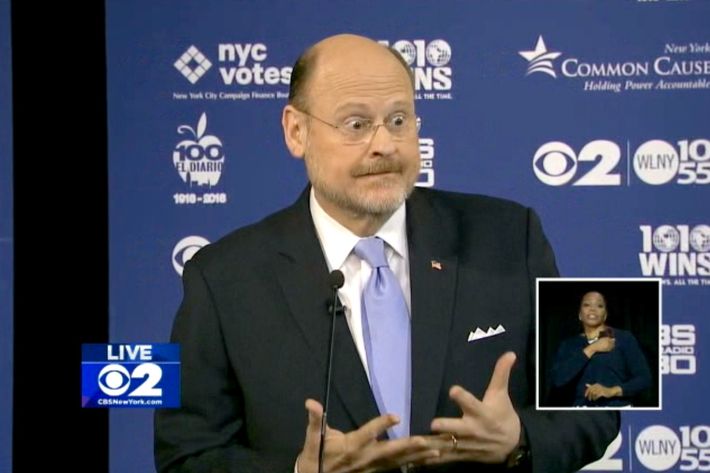 Longest and Angriest Fight: De Blasio and Lhota arguing over whether this ad played "the race card": 
Downplay of the Night: "There's nothing divisive about that ad whatsoever." — Lhota, referring to the ad, which implied de Blasio would turn New York into a violent, riot-plagued dystopia ruled by biker gangs. 
Most Obvious Attempt to Appeal to Staten Islanders: Lhota says the best non-family-related day of his life was the ribbon-cutting ceremony to close Fresh Kills landfill. De Blasio said his was when he graduated from NYU (probably while high).
Most Communist-Sounding Education Plan: "It's a five year plan for full day pre-K and after school programs." — Democratic-socialist Bill de Blasio.
Most Frustrated at Being Forced to Debate Stuff at a Debate: Lhota during the "ask your opponent a question" round:
Lines Joe Lhota Practiced the Longest in the Mirror All Day Before the Debate:
4. "For those of you out there in the middle class, hold on to your wallets." — Lhota claiming that de Blasio's promised taxes on the wealthy will be eventually target the middle class as well. 
3. "In two weeks when you go to vote on November 5th, for your sake, for your child's sake, do you want your vote to be safe or sorry?"
2. "Mr. de Blasio doesn't know the difference between a civil right and a civil wrong." — Lhota referring to raising taxes as a "civil wrong."
1. "You talk about tea so much you remind me of the Mad Hatter." — Lhota on de Blasio's affinity for talking about Lhota's appearance before a Staten Island tea party. 
Number of Times the Mad Hatter Said the Word "Tea" in Alice's Adventures in Wonderland: Three.