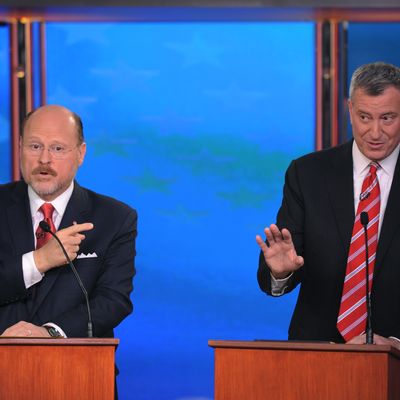 The candidates clash during the hand-gesture round.
Photo: Pool/2013 Getty Images
Tallest Candidate: Bill de Blasio, for the third consecutive debate. 
Six Specific Areas of Agreement Between Bill de Blasio and Joe Lhota:
• Enact Mayor Bloomberg's post-Sandy hurricane resiliency plan.
• No racial profiling in stop-and-frisk.
• Continue mayoral control of schools.
• Immigration policy (ID cards and drivers licenses for illegal immigrants, federal immigration reform).
• Smoking should not be banned on sidewalks (except near entrances).
• Don't use city funds to save the New York City Opera. 
Time It Took for the Phrase "Tale of Two Cities" to Be Uttered: 76 minutes!
Most Blatant Pandering for the Jewish Vote: It's a tie!:
• "There is no closer relationship on earth — literally no closer relationship — than that between New York City and the state of Israel." — De Blasio.
• "Anyone who wants to interfere or threaten [Israel], they're basically threatening me, as well." — Lhota.
Most Painfully Phony Friendly Candidate-Banter: Should we sing! I think we should! Ha ha ha.
Least Applicable Pop-Culture Reference: Lhota said that De Blasio's attempts to tie him to the national Republican Party reminds him of Rocky IV:
Most Amenable to Having Backup Plans: Lhota. For the millionth time, De Blasio was asked what his Plan B would be for funding universal pre-k and after-school programs for middle schoolers if Albany refuses to allow a tax increase on people making $500,000 or more, and declined to offer one. Lhota countered that "leaders" believe in having a Plan B and a Plan C. 
Most Blatant Dodge: "I think voters are looking ahead." — De Blasio, refusing to answer whether voters would prefer a return to the Dinkins administration (which De Blasio worked in) or the Giuliani administration (which Lhota worked in).
Most Oblivious Denial: Lhota insisting that Rudy Giuliani's response to the 2000 death of Patrick Dorismond in a police shooting — Giuliani released Dorismond's juvenile records and claimed he was "no altar boy" — was not divisive at all. Dorismond was, in fact, a former altar boy. 
Boldest Stance Against Unpopular Dead Guy: "I'd do it again today. He's a murderer —  was a murderer. He's now passed, thank goodness." — Lhota defending Giuliani's decision to kick Yasser Arafat out of a Lincoln Center concert in 1995. 
Remark Most Likely to Be Heard During Marriage Counseling Session: "It's really unfair …. Let's talk about what I want."
Remark Most Reminiscent of a 2008 Presidential Debate: The same clip as above.
Least Likely to Win the Out-of-State Homeless Person Vote: Lhota, who said he would not continue the "right to shelter" policy for homeless people who were not New Yorkers, although it's unclear how one would enforce residency requirements on people with no residence. 
Least Accurate Sentence: Pointing to the pitfalls of mandatory paid sick-leave laws, Lhota noted, "If you put San Francisco, D.C., and Philadelphia together, they're all losing population." Neither San Francisco, nor D.C., nor Philadelphia is losing population. 
Most Indignant: Lhota defending himself against the accusation that he doesn't understand what "life in this city is like." (He asks De Blasio, who grew up in Massachusetts but has lived in New York for over three decades, "How's things in Cambridge lately?")
Winner: De Blasio, because he's up 39 points and this debate will change nothing.