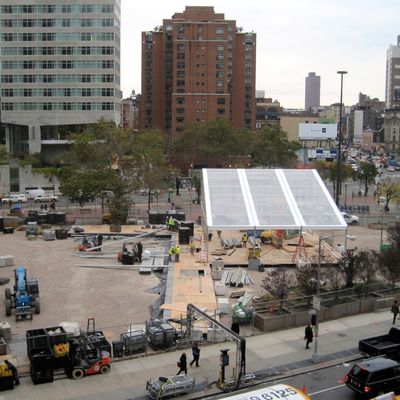 Earlier today, like the 2001 monolith, a large canopy materialized on an empty lot at the corner Canal and Varick Streets, a site once used as a staging ground for Occupy Wall Street marchers, and more recently occupied by a number of food trucks. A permit filed with the city's Department of Buildings indicates that the structure is connected with a temporary event called "Talking Transition," which is to occur on November 6 — the day after the mayoral election.
So, what is Talking Transition? When asked that question yesterday, a man wearing a walkie-talkie, who appeared to be coordinating setup work at the site, said, "It's a public event that hasn't been announced." He said that whatever it was, it was most definitely not called Talking Transition. On the building permit displayed on the fence, the name of the event was conspicuously blacked out with a magic marker.  The permit identified the producer as Tom Bussey, of a company called Production Glue, a firm that specializes in staging live events and lists the NYC mayor's office and, perhaps significantly, the Tribeca Film Festival — headquartered across the street — as clients. Bussey did not return an e-mail requesting comment. On October 17, an unknown party registered the url talkingtransitionnyc.com.
Recently, a woman named Ahlam Said has been hiring staff for the event. "Looking for seasoned community organizers who are well connected in NYC for a really cool short term project," Said posted to Twitter on October 19. Another tweet refers to "a project regarding the mayoral transition." (Update: Said seems to have deleted these tweets after the publication of this article.) A job listing, linked to Said's e-mail address, says the temporary jobs (paying $5,000) consist of managing teams of canvassers who will fan out across every borough. The listing describes the event as follows:
Talking Transition will pioneer the first "open" transition in New York City. It will transform what is usually an insular, closed-door process between Election Day and Inauguration into an opportunity for broad public engagement. Thousands of New Yorkers will participate in public conversations about policy issues, ideas and questions that affect their communities. Over the course of two weeks, starting the day after Election Day, Talking Transition will create the space for these conversations, hosting live events in a highly accessible central "think tent," and reaching deep into neighborhoods in all five boroughs through a mobile, interactive digital engagement in the streets and online, and an event strategy delivered in partnership with the public library systems and neighborhood organizations."
Sounds pretty elaborate! So who's directing this event — and, perhaps more pertinent, paying for it? When I started asking around, the job listings were deleted within minutes. (You can find a cached version here.) Representatives of Trinity Real Estate, which owns the lot, did not return a call requesting comment, while a staffer at Lower Manhattan Cultural Council, which arranges use of the outdoor space, insisted he knew nothing about the project. The description of the event certainly sounds inspired by Bill de Blasio's inclusive rhetoric, even if there's nothing to suggest it's directly connected to the campaign.
I've e-mailed Said to ask for further details. But an individual working inside a trailer next to the "think tent," who declined to give her name but identified herself as the site manager, said that some answers may soon be forthcoming. "There's going to be an announcement," she said.

Chris Smith contributed reporting