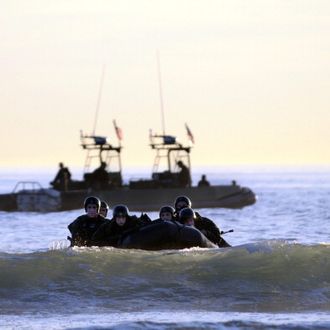 SEALs in training.
Photo: Blake Midnight/US Navy via Getty Images/Getty
The first reports from the New York Times and NBC News about a pre-dawn Navy SEAL raid on an al-Shabab leader's seaside villa Saturday carried the news that the unidentified leader had been captured in a mission related to last month's attack on a shopping mall in Nairobi. But shortly after it published its original story about the raid in Baraawe, Somalia, the Times updated its story to report the leader "was believed to have been killed in the firefight, but the SEALS were forced to withdraw before that could be confirmed." NBC's website, meanwhile, still reports the terrorist leader captured, at least as of this writing.
An American official told the Times that "the Baraawe raid was planned a week and a half ago," just days after the Nairobi attack. The Washington Post spoke with some residents of Baraawe, who said foreign fighters lived in the two-story beachside house, and that some international military force (presumably the SEALs) fought its way inside in a fierce gun battle. After the international soldiers left, the militants went house to house in Baraawe, apparently searching for evidence of who might have revealed their location.
Meanwhile, the Kenyan military said on Saturday that four to six people had been involved in the Nairobi attack, not fifteen, as had originally been reported. So, obviously a factual narrative is still coming into focus in this whole story.