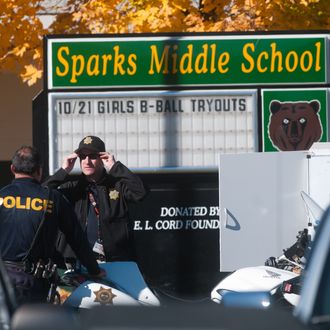 Photo: David Calvert/2013 Getty Images
A day after the Nevada school shooting that left a teacher dead and two students wounded, police say they still don't know the 12-year-old shooter's motives, or whether he targeted specific students. Authorities have determined that the seventh-grader, who turned the gun on himself, used a Ruger 9mm semi-automatic handgun they believe he took from his home. His parents, who are cooperating with police, may face charges for failing to prevent the boy from taking the gun. "That is basically a question for the local prosecutor, but the potential is there," said Sparks Police Department Deputy Chief Tom Miller.
The two boys shot in the attack didn't sustain life-threatening injuries, and their condition has been upgraded from critical to stable. Police credited the staff at Sparks Middle School for preventing an even bigger tragedy by quickly getting students into classrooms when shots were fired outside before classes started on Monday. Miller said the shooter tried to get into the school, but couldn't enter because the building was on lockdown.
The story's biggest hero is slain math teacher Michael Landsberry, a former Marine and member of the Nevada National Guard, who was shot in the chest. He calmly walked toward the shooter and tried to convince him to put down the gun, giving students in the area time to flee. "He was a beloved teacher, beloved father," Washoe County School District Superintendent Pedro Martinez said. "He will not be forgotten."