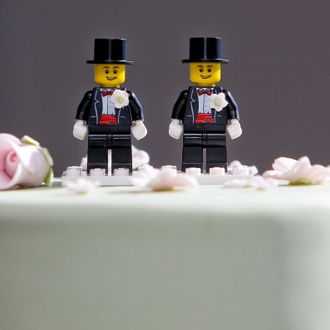 Photo: Hagen Hopkins Images/Getty
When a New Jersey Superior Court judge ruled in September that the state must start allowing same-sex couples to get married now that the United States has gotten rid of DOMA, she gave a deadline of Oct. 21 for those marriages to start. On Thursday, Judge Mary Jacobson made it clear that the deadline stood, regardless of the state attorney general's appeal of her decision. Lawyers for the state had asked Jacobson to put a hold on those marriages starting until the State Supreme Court made a decision on their appeal, but Jacobson said Thursday she would not.
Couples wanting to marry "would suffer many hardships of constitutional magnitude if the stay were to be issued, but the state has not demonstrated how it would suffer in any meaningful way if the order is enforced," Jacobson said. So unless the state persuades an appellate court to grant a stay in the next eleven days, the marriages should start a week from Monday.