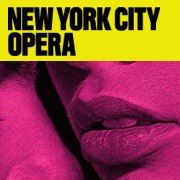 Photo: NYC Opera / Facebook/Courtesy shot
The New York City Opera once held the role of rambunctious younger sibling to the Metropolitan Opera, producing lower-cost, contemporary shows from modern composers. When Fiorello La Guardia established it 70 years ago, he dubbed it "the people's opera," and for decades it brought that populist verve to Lincoln Center. But in 2011, it moved out of its longtime home. This year's opening performance of Anna Nicole, by librettist Richard Thomas and composer Mark-Anthony Turnage turned out to be a "big bust," according to New York's Justin Davidson. Then, in September, City Opera announced that it needed $7 million by the end of the month in order to avoid filing for bankruptcy. It did not get it. So on Tuesday, the company announced via e-mail it was shutting down.
"New York City Opera did not achieve the goal of its emergency appeal, and the board and management will begin the necessary financial and operational steps to wind down the company, including initiating the Chapter 11 process," general manager George Steel wrote in an email to subscribers, according to the New York Times. The company, which tried to raise money through Kickstarter, only managed to gain about $2 million of its $7 million goal. The $1 million Kickstarter campaign reached $300,000.
As of this writing, City Opera's website makes no mention of the shutdown. Promotions for tickets and educational programs in the 2013-2014 season still grace the front page, the blog has interviews with singers, and the press releases archived online announce casting and performances, not fund-raising needs.
But elsewhere, the finger-pointing has begun over the company's recent decisions to go dark during the 2008-09 season, to hire Belgian director Gerard Mortier, who backed out, and to leave Lincoln Center in the first place. "City Opera's demise is the fault of people with a lot of money but no common sense, from Susan Baker's absurd flirtation with Gerard Mortier to (board chairman) Charles Wall's foolish support of George Steel when the singers and orchestra unanimously had no confidence in Steel's artistic vision," Alan Gordon, national executive director for the American Guild of Musical Artists, told the Associated Press.
The company has already sold off most of its costumes and sets, its endowment has shrunk to about $5 million in June 2012 from $48 million in 2008. So there really are no more reserves to draw on. Sadly, City Opera appears to have taken its final curtain call. For Anna Nicole.