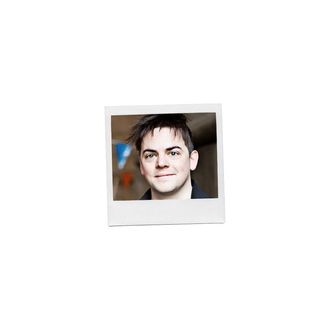 Name: Nico Muhly
Age: 32
Neighborhood: Chinatown
Occupation: Composer; his first large-scale opera, Two Boys, premieres in the U.S. at the Metropolitan Opera next week, and you can catch him in conversation with Ira Glass at the New York Public Library on October 29.
Who's your favorite New Yorker, living or dead, real or fictional?
I'm pretty obsessed with Diana Vreeland; I was given all of her writings by my second-favorite New Yorker, which is Isaac Mizrahi. She's amazing. She's just created so much of what we think of as not just style, but ways to talk about style.
What's the best meal you've eaten in New York?
A solo meal at the bar at wd~50. It was like an octopus tentacle above a fugue of whatever else, but the thing that was most memorable was the drink, which was a mezcal-and-smoked-pear situation. It was totally next level. It was a weird time, too: 11 p.m. on a Tuesday. Like some strange, interstitial moment.
In one sentence, what do you actually do all day in your job?
I sit in front of a computer or a piece of paper in relative silence.
What was your first job in New York?
Working for Maira Kalman as an archivist. It was heaven.
What's the last thing you saw on Broadway?
Do you know that I literally saw Spider-man? The show, not the guy on the street. I can't deal with people in costume in public.
Do you give money to panhandlers?
Not unless they're playing an instrument, in which case, usually.
What's your drink?
This thing with gin and basically any green herb smooshed up with lime and black pepper. Basically, I just go to the Chinese supermarket and buy all the crazy herbs.
How often do you prepare your own meals?
As often as I can. I'm an excessive stock-maker, so if I ever have a couple of hours I'll just make stock: chicken stock and vegetable stock and veal stock and beef stock. So there's always the option of random risotto. Also I have a dog sitter who comes and I pay usually in Bolognese sauce, which I make in bowls and then freeze. In addition to reams of cash money, of course.
What's your favorite medication?
Trazodone.
What's hanging above your sofa?
A giant clock by M&Co and a drawing by Ariel Schrag, called Wandering Hands. I went to Columbia with Ariel, and one of the things that I have always wanted to own is one of her originals. So this is a great kind of fun purchase for me.
How much is too much to spend on a haircut?
$100 for men. But I suspect the bar is much higher for women. A friend once informed me that she had had a $500 haircut and I was screaming in the restaurant, "ARE WE IN THE PRESENCE OF HALF-A-THOUSAND-DOLLAR HAIR!?!?"
When's bedtime?
1 a.m.
Which do you prefer, the old Times Square or the new Times Square?
New one! The old one was scary because I was 8.
What do you think of Donald Trump?
I really want to know what's going on with the shape his mouth takes when he says words like million or billion.
What do you hate most about living in New York?
Sweating on the subway platform in the summer.
Who is your mortal enemy?
I'm too nice to have an enemy. Or too oblivious to know that I do.
When's the last time you drove a car?
Last week in L.A.! I rented my ass a Mustang and zoomed all around that place. I didn't mean to rent myself a Mustang, actually. A Mustang was rented for me. And I've never had this experience: A valet in L.A. was like literally like, "I like driving your car," which I thought was great.
How has the Wall Street crash affected you?
Probably quite profoundly, but in an oblique and invisible way.
Times, Post, or Daily News?
The Times. Delivered on weekends, online every day.
Where do you go to be alone?
The roof of my building. The other day there were dudes repainting my balcony kelly green for some known-only-to-them reason, and they had all these questions, so I hid on the roof and read cookbooks.
What makes someone a New Yorker?
Being fluent in how to get from point A to point B in the most elegant and streamlined way possible.