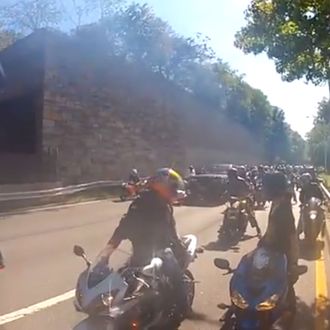 Ever since a motorcycle crew clashed with a family-filled SUV and the video went viral, biker gangs have not exactly gotten the benefit of the doubt. Today in Queens, "frightened motorists" called 911 on a group of riders allegedly driving recklessly on the Long Island Expressway, resulting in seven arrests, according to the New York Post. No one was run down or beat up this time, as far as we can tell, but witnesses — and law enforcement — seem unwilling to take a chance.
Elsewhere in scary motorcycles, the Daily News has video from Sunday of a gaggle in Manhattan that "came past like maniacs … pulling wheelies, and running red lights":
Maybe leave the bike at home for a bit? Or obey every traffic rule.