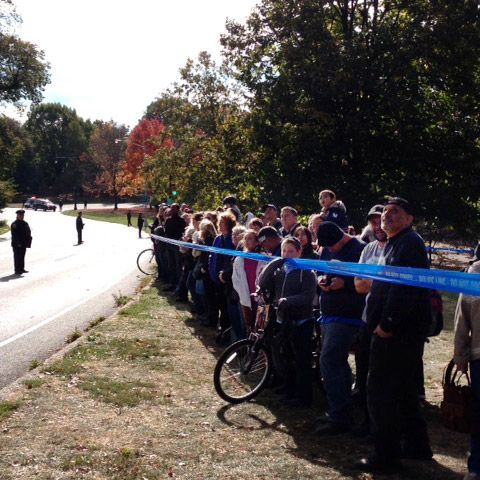 In the mid-eighties, a young man living with his girlfriend on 2nd Street in Park Slope used to go running occasionally in Prospect Park. Today he returned to that park, via Marine One, the presidential helicopter. 
Around 250 people — including lots of babies, and also lots of dogs, because Park Slope — showed up this afternoon to watch President Obama land in the Prospect Park ballfields en route to a speech at a school in Crown Heights. A double perimeter of blue police tape lining West Drive kept the spectators penned inside a designated viewing area about 400 to 500 feet away from the action, and a line of trees between the crowd and the landing site ensured that very little would be visible. Nevertheless, those waiting in the chilly fall air were mildly enthusiastic about what they were about to witness. 
"It's kind of exciting," said Elaine Beery, standing with friends. "It's the closest I'll ever get. So just being here and being part of an event is interesting."
Nearby, Ray Allen ("the other one"), a music professor at Brooklyn College, agreed with Beery: "The idea that he's going to land right here in Brooklyn is kind of exciting," said Allen, who was correcting or editing a paper of some kind as he waited. "I just want to see the cool helicopters, really."
Yvette Duncan, standing with a group of stroller-wielding nannies, didn't expect to see much from her vantage point. "But it doesn't matter. I just want to be in the flow," she said. We asked if she was kind of excited. "Nah." 
But William, an 8-year-old who came with his parents and sister, was brimming with anticipation. "Mmmhmm," he said when asked if he liked Obama. "And my dad does, a lot." (Imagine!) William professed to be most excited about "the CIA, and Obama's helicopter landing."
As the crowd milled around, police choppers occasionally passed by overheard, resulting in multiple false alarms. "I think they're green, yeah," one woman said to another, speculating on the real helicopters. 
And then, there they were, the president's helicopter and the helicopters of his entourage, kicking up dirt as they landed, one after the other. You couldn't see much through the trees, but they were definitely helicopters, that was for sure. Smartphones were raised; necks were craned. A couple of girls squealed.
Only a few minutes later, the motorcade whizzed by. Some onlookers claimed to have seen Obama waving. Others said they saw his silhouette in the limo's window. Personally, we have no idea which of the two identical-looking limos Obama was riding in, which is by design. 
With Obama now speeding off toward his next stop, the crowd immediately began dispersing. A man by the name of McKensie, with posters of Obama adorning his torso, stuck around to chat with another Obama fan who had brought a poster of her own.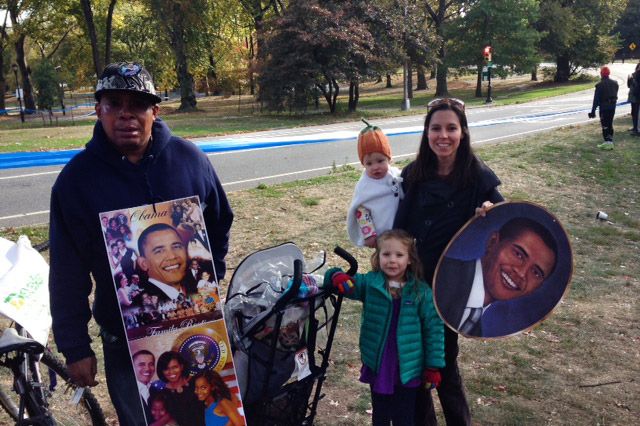 McKensie unfurled a Jamaican newspaper with Obama and the Jamaican prime minister on the cover. "I want him to come to Jamaica, meet the Prime Minister of Jamaica," he said. He had been waiting since 11 a.m., one of the first people to show up. "It was well worth it," he said. "I would have waited all night just to see it." 
William was satisfied as well. "Awesome," he told us as he was leaving the park. He not only got to see the helicopters, but he waved at the president, too. "Those cops were going really fast," he added.