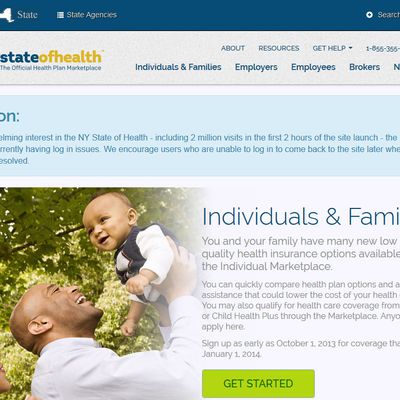 Amid the relatively organized chaos of the government shutdown, the Affordable Care Act's insurance marketplaces launched this morning to predictable partisan bickering over what system-wide imperfection really means. Some of the websites are down! Obama can't do anything right. Too much traffic crashed the sign-ups! Obamacare is sooo popular.
It's sort of like Apple, warned Health and Human Services secretary Kathleen Sebelius yesterday. "I clearly have an iPad and I also have an iPhone and about ten days ago I got the prompt that the operating system had changed," she said. "We're building a complicated piece of technology, and hopefully you'll give us the same slack you give Apple." But America is not always a patient nation.
Fox News, of course, has a "glitch watch" section on its website, cataloguing the likes of delays for small businesses, Spanish-language screwups, and error messages nationwide. For instance, New York's exchange said it received 2 million visits in the first two hours since launch, leading to log-in issues (see above), while Minnesota's exchange put off its debut until the afternoon.
The Washington Post, naturally, has both sides of the What It Means debate. First, a disappointed customer from West Virginia:
Jon Tucci stayed up until midnight Monday, hoping to enroll on West Virginia's new insurance marketplace at the first moment possible. Ten hours later – after two attempts at signing up and one 45-minutes call with a consumer service agent – technical glitches have prevented the 60-year-old grandfather from purchasing a plan.

"I'm pretty fluent on the Internet," Tucci, who is self-employed in the oil and gas industry, says. "I've applied for a lot of things, and there are always glitches. But this was totally disappointing. I'm just really frustrated."
And then this story of a patient woman on the ground in Tennessee:
Lori Futcher hit a glitch Tuesday morning when she tried to enroll on Tennessee's new insurance marketplace. But she was actually excited to see the error message: It said that too many people were trying to use the site, and she would need to wait a little longer.

"My reaction was like 'yay, a lot of people want coverage!'" Futcher, a 42-year-old mother who was trying to buy coverage for her husband, said. "There are lots of other people like me are getting going on day one."
Republicans are giddy about the (somewhat-overshadowed) glitches, which were expected:
While Democrats are content to proudly spin the other side:
Update, 3:10 p.m.: "The New York health exchange's website had seen a total of 7.5 million hits as of early afternoon since its 8 a.m. launch, a Department of Health spokesman said Tuesday."